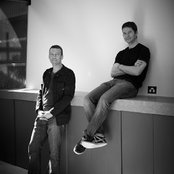 RAAarchitects (formerly Rudolfsson Alliker)
| | |
| --- | --- |
| | RAAarchitects (formerly Rudolfsson Alliker) |
Commented: Rooftop garden maintenance?
Hi Marnie, Apologies for the slow reply. This roof is a concrete slab with concrete upstand beams. It has a concrete waterproofing agent in it called Xypex and then a waterproof membrane, drainage lay...
Commented: Beautiful Entrance Door
Hi Amanda, It's western red cedar on a steel frame on pivot hinges. It was built by the builder on site. Best, Joseph
Commented: Front Door
Hi, the door was made by the builder and is approx. 1000 x 2100mm. Best, Joseph
Commented: Green wall
Hi Robebern, It is just steel reinforcement sheets. Cheap and cheerful! Joseph
Commented: Kitchen cabinets
Thanks Brian, The underside of the cupboards line up with the frame of the window but the large overhang on the doors hides most of the connection anyway. I would think that the only issue in your sit...