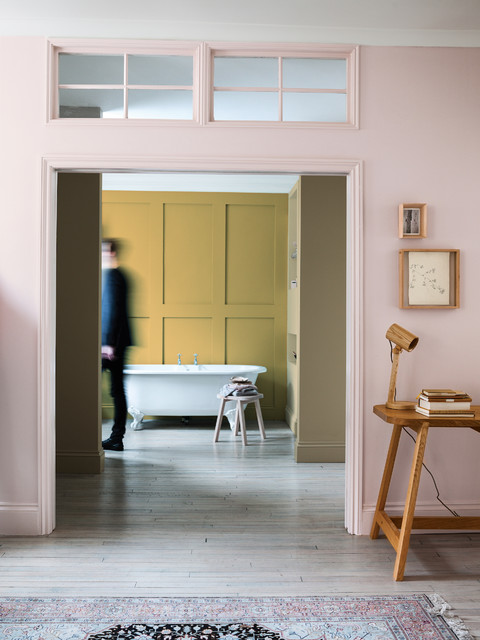 What Houzz contributors are saying:

Antonia af Petersens added this to The New Nordic: Scandi Style Embraces Colour
6 May 2016
As such, coloured walls are not a new phenomenon in Scandinavia, but the style of painting perhaps has changed over the decades."Up until the Stockholm Exhibition in 1930, when the concept of functionalism was presented, decorative painting had been popular," Fridell Anter says. "Painted surfaces hadn't been a single­ colour, but instead featured pictures or patterns, or imitated marble or wood. Functionalism represented a change in trends in the sense that people started painting entire walls in one single colour, perhaps with a different one on the next wall. What we're seeing now, with monochrome rooms and painted ceilings and woodwork, is an extension of that."
What Houzzers are commenting on:

Alina Skvortsova added this to Идеи пользователя Alina
20 Jan 2018
«До всемирной выставки в Стокгольме в 1930 году, где была представлена концепция функционализма, был популярен декоративный подход к покраске стен, — рассказывает писательница. — Для одной поверхности использовали несколько цветов, а также рисунки или узоры, иногда имитировали мрамор или дерево. С приходом функционализма тенденции изменились, и люди стали красить всю стену в один цвет. То, что мы видим сейчас — монохромные комнаты, крашенные потолки и деревянные панели — продолжение этой тенденции».

ANNA Zhuravleva added this to New
31 Dec 2017
«До всемирной выставки в Стокгольме в 1930 году, где была представлена концепция функционализма, был популярен декоративный подход к покраске стен, — рассказывает писательница. — Для одной поверхности использовали несколько цветов, а также рисунки или узоры, иногда имитировали мрамор или дерево. С приходом функционализма тенденции изменились, и люди стали красить всю стену в один цвет. То, что мы видим сейчас — монохромные комнаты, крашенные потолки и деревянные панели — продолжение этой тенденции».