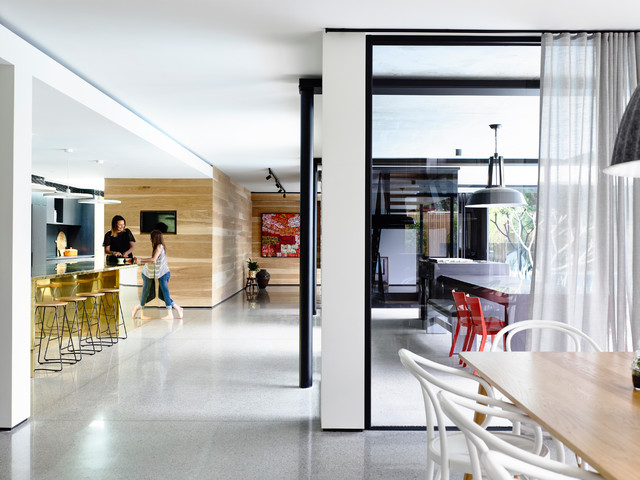 #328 Wolseley
, Melbourne
What Houzz contributors are saying:

Pearson + Projects added this to Serial Renovators on How to Mentally Prepare for a Renovation
2 Jun 2017
It is understandable that people may see setting goals as excessive when they have a small-scale renovation or have plenty of time available. Regardless of the scale of the project, however, planning is a great habit to get in to. When we use these six tips in our renovations, it forces us to think through the project in detail, consider the steps and process in order to get to our predetermined end goal. Planning challenges our thinking about every element of the renovation before us, which as a result means tradies will start when we need them, and it will ultimately lead to a more efficient and improved outcome. Start how you mean to go and you will need end with a house worthy of its own Houzz feature!Tell usWhat are your suggestions for setting your renovation right from the beginning? Tell us in the Comments section below, or simply like, share or bookmark it. Join the conversation!MoreBrowse more beautiful home designs

Laura Barry added this to Architect 101: A Fuss-Free Guide
16 Apr 2017
What does an architect do?The services of an architect can be roughly broken down into three parts, and you can employ them to perform all or some of these parts. Design: This is where you and your architect discuss your requirements, sketch designs to go over potential ideas along with the cost of each idea, and develop the chosen design into detailed drawings, material selection, fittings, finishes and the associated cost to produce it. Contract documentation: This middle phase is where the technical drawings and specs are laid out, planning and building permits are obtained and tenders are invited. Contract administration: If you have chosen to have your architect oversee the building contract, you can expect them to liaise with the builder to ensure quality of work and specifications are delivered. They can also approve any discrepancies in price and time due to delays or weather, under your approval identify any issues and rectify them, let you know if there are outstanding decisions to be made, and act as your representative during council certification. And they can advise you on suitable contracts, safeguards and trades.

Rebecca Gross added this to Houzz Tour: An Architect's Cutting-Edge Concrete Home
24 Nov 2015
On the ground floor, the kitchen, dining and living areas wrap around the terrace and pool. The kitchen is centrally located "as the heart of the home," says Nick, "allowing dining, living and outdoor entertaining spaces to be easily serviced." And with full-height glass doors and direct access from each area, this space has the feel of an open pavilion.
What Houzzers are commenting on:
People who liked this photo also liked
Homes with Similar Colours