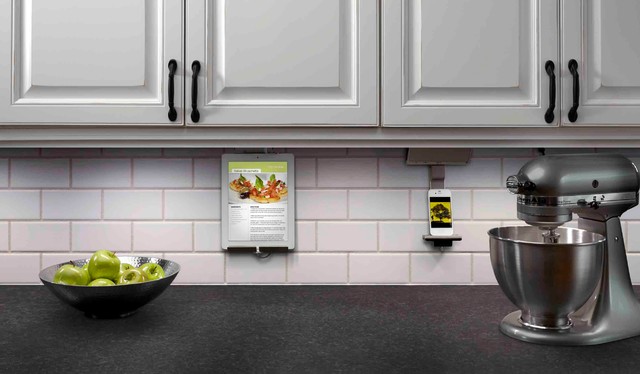 adorne Collection Under-Cabinet Lighting
Kitchen, Bridgeport
With its "hidden from view" track, the Under-Cabinet Lighting System from adorne offers power galore without a single outlet in sight. Relocate outlets, lights, speakers, and smart phone docks to build your dream kitchen.
This is an example of a kitchen in Bridgeport. — 
Houzz
What Houzz contributors are saying:

Tailorly, Professional Home Organizing added this to 6 Ways to Whip Your Baking Centre Into Shape
14 October 2020
5. Reduce recipe clutterI used to have a seven-centimetre-thick binder crammed with recipes. But I only ever used about 12 of them. Most of the others I either tried once and never used again, because they were too complicated or didn't taste good, or I hadn't yet got around to them. I found myself turning more to the internet for recipes, so I got rid of the paper copies and began saving my favourite recipes digitally, including scanned versions of my favourites from the binder. Digital recipes work best for me, but if they don't for you and you prefer hard-copy recipes, then recycle all your unused recipes and preserve your remaining ones with sheet protectors.

The Art of Decluttering added this to How to Declutter When Your House is Full of Digital Devices
28 September 2018
RecipesHave you moved to online recipes or do you have a collection of recipe books that you rarely browse through, if ever? If this sounds familiar, it may be time to declutter your physical recipe books. I found that even in the recipe books I did still use, there were only a few pages I referred to.

Bryna Howes added this to 10 Ideas for Keeping Your Tech Organised
17 December 2014
6. Use a standFor smaller objects, such as your phone or tablet, a wall mount or desk stand can be helpful. In this example, you can see both a tablet dock and a smartphone dock. This is particularly great if you plan to use your tablet as a virtual recipe book in the kitchen, or if you need hands-free access to your phone. If you don't want to mount a stand to the wall, desk stands are extremely easy to come by.
What Houzzers are commenting on:

Lisa Stone added this to Lisa's ideas
18 October 2021
Stand for phone/ipad so can see recipes when cooking/baking - love this!