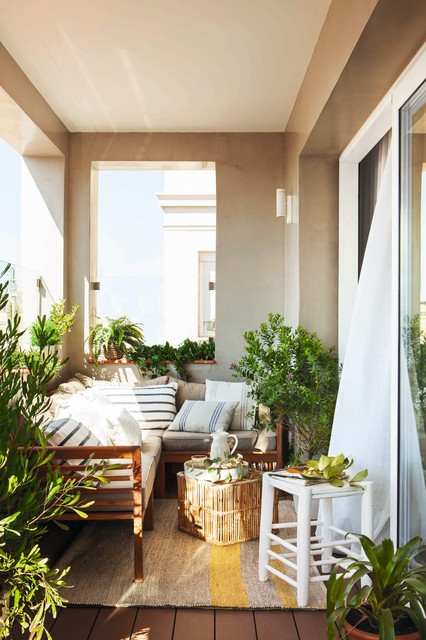 ÁTICO PEDRALBES
Mediterranean Balcony
Proyecto realizado por Meritxell Ribé - The Room Studio
Construcción: The Room Work
Fotografías: Mauricio Fuertes

Inspiration for a small mediterranean balcony in Other with a roof extension. — 
Houzz
What Houzz contributors are saying:

Georgia Madden added this to How to Greenify Your Balcony in a Weekend
1 September 2021
Water is a major consideration when you're growing anything in pots, particularly in sunny and breezy spots. Plants are like evaporative coolers – and nothing causes evaporation like hot sun and wind.Check in regularly with your pots to see that your plants have enough water to keep pumping through those leaves. One tip to help with the evaporative effect on balconies is to group your pots together so your plants can provide each other with a little shade and protection from the wind. This also makes them easier to water.


Georgia Madden added this to How Do I... Choose Plants for My Balcony?
18 September 2017
Do you need a huge balcony? Not at all. If your balcony is small or awkwardly shaped, the key is to minimise mess with planting that won't crowd out the space and create unnecessary clutter. A greenwall – or vertical garden – is one of my favourite options, as it makes use of your wall space without taking up any floorspace.Alternatively, consider a series of long narrow pots framing the perimeter of the balcony that will take up a minimal amount of room, while adding a touch of nature to your alfresco area. Having them at different heights will give you a sense of an enclosed garden space.
What Houzzers are commenting on: