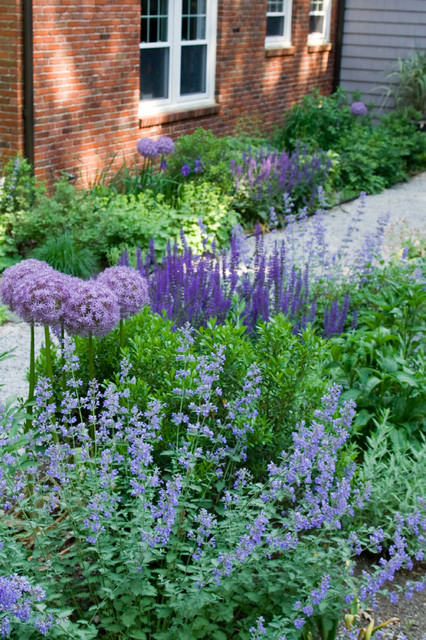 Belmont Hill Residence
Contemporary Garden, Boston
The master plan for this south-facing woodland property celebrates dramatic topography, muscular canopy trees, remnant fieldstone walls, and native stone outcroppings. Sound vegetation management principles guide each phase of installation, and the true character of the woodland is revealed. Stone walls form terraces that traverse native topography, and a meticulously crafted stone staircase provides casual passage to a gently sloping lawn knoll carved from the existing hillside. Lush perennial borders and native plant stands create edges and thresholds, and a crisp palette of traditional and contemporary materials merge––building upon the surrounding topography and site geology.
This is an example of a contemporary garden in Boston. — 
Houzz
What Houzz contributors are saying:

Sarah Alcroft added this to Pro Panel: 3 UK Experts on Creating an Uplifting Sensory Garden
13 August 2020
Colour: When choosing a palette for your plot, think about what mood you want to create. "For a stimulating, vibrant garden, vivid reds, oranges and yellows work well," says Ashley.Her plant suggestions include: sunflowers (Helianthus annuus); marigolds (Calendula officinalis); poppies (red Papaver orientale 'Beauty of Livermere'); red-hot pokers (Kniphofia rooperi); monbretia (Crocosmia 'Lucifer'); perennial geraniums (magenta Geranium psilostemon), and phlox (red Phlox paniculata 'Starfire')."For a more calming, restful garden," she continues, "go for lilacs, mauves, whites and blues."Try these plants for a cooler garden palette: Lavandula angustifolia 'Munstead'; lilac phlox eg Phlox paniculata 'Blue evening', and white guaura (eg Gaura lindheimeri 'Whirling Butterflies').

Lauren Dunec Hoang added this to 3 Colour Palettes to Set Your Garden's Mood
2 April 2017
Concentrating on blues and purples in a pastel palette creates a calmer and more tranquil feel than pastel schemes that include yellows and pinks. In the same garden, catmint (Nepeta sp.) blends with dark purple 'May Night' sage, lavender-pink 'Globemaster' allium and lady's mantle (Alchemilla mollis) for a calming walkway planting.