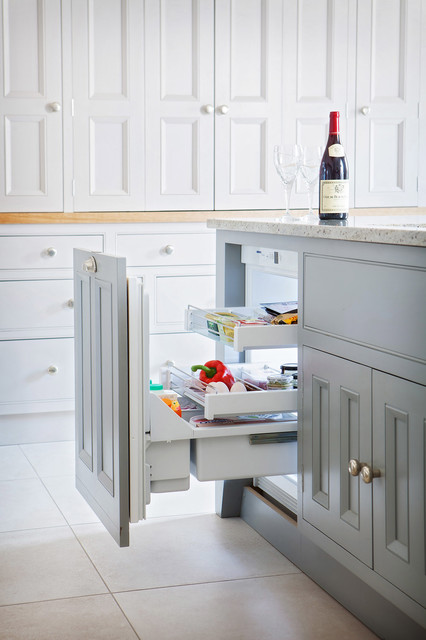 Contemporary Country Kitchen in Georgian House
Contemporary Kitchen
Inspiration for a contemporary kitchen in Other with beaded inset cabinets and grey cabinets. — 
Houzz
What Houzz contributors are saying:

Georgia Madden added this to How Do I... Safely Store Food Leftovers?
12 December 2018
To maximise storage space in your fridge (or cupboard for any non-chilled items), choose slim, flat containers that can easily be stacked. If you choose to wrap leftovers in cling wrap or aluminium foil, choose the right type for the job. Cling wrap will melt and stick to food if you're reheating it in the oven – aluminium foil is a better option in this situation. Don't use aluminium to store highly acidic foods, as it can affect their taste.Reusable food wraps are a far more environmentally friendly option than cling film or aluminium foil.

Victoria Harrison added this to 11 Kitchen Storage Ideas That are Strangely Soothing
7 August 2018
7. Chilled to perfectionDo you wince every time you open the fridge, not sure exactly what lurks within? Not the owners of this kitchen. They must feel a sense of zen-like calm every time they gently glide open the door of this pull-out fridge, with its neat shelves of fresh ingredients enticingly arranged. No wilting salad or mouldy carrots here.

Georgia Madden added this to How Do I... Store Food to Keep it Fresh?
27 May 2018
We've all been guilty of it – buying food and promptly forgetting about it. Or not storing it properly, only to find that it's gone off and we have to toss it in the bin. But these bad habits can seriously add up – according to a 2017 survey, most Australian households waste more than $1,000 per year by letting food go off before it's consumed. While many factors affect how long food will last – including how long it's been sitting on the shelf in the shop when you bought it, and whether it was transported in correct conditions – there are a few simple things you can do to prolong its freshness once you unload your shopping bags.
What Houzzers are commenting on:
Kitchens with Similar Colours