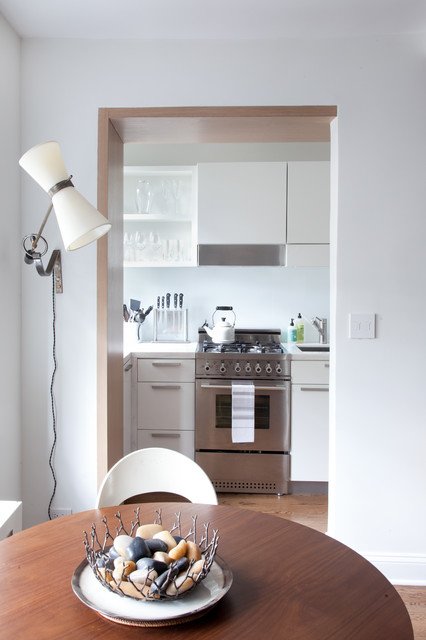 Contemporary Kitchen
Contemporary Kitchen, New York
Photo of a contemporary kitchen in New York with stainless steel appliances, open cabinets, white cabinets, white splashback and glass sheet splashback. — 
Houzz
What Houzz contributors are saying:

Bryna Howes added this to 10 Tiny Things You Can Do to Refresh Your Space
28 October 2014
10. Get naturalIf you really can't spend a cent, it's time to get back to nature. Take a nice long walk and look for interesting objects such as pinecones, pretty rocks and pebbles, and smooth ocean-worn glass fragments. When cleaned of any dirt and residue, and placed in a bowl, they are an easy decor fix.TELL USWhat quick decorating fixes have you implemented to give your space a whole new feel? Let us know in the comments section.MOREHow to Update Your Bathroom Without a Sledgehammer20 Budget-Friendly Updates for Your Kitchen15 Easy (and Wonderfully Creative) Bathroom Updates

Jenny Drew added this to 10 Ways to Max Space in Your Tiny Kitchen
21 April 2014
9. No doorRemoving the kitchen door is so easy and helps a small room feel much larger. Better still, have the opening widened or a wall removed. Opening up the kitchen is about more than style – having extra space to move around in will help keep two cooks from bumping into each other quite so much.10. Make paring back an art formKeep the best and ditch the rest. Keep only the best knives, your favourite set of glasses, the most adorable teapot, the most frequently used kitchen tools and so on. Be ruthless about purging clutter. And it wouldn't hurt to choose clear glass and acrylic for the items you keep on display – transparent items make a room feel more spacious.MORESmall Kitchens From Around the WorldCompact Kitchens: 10 Space-Enhancing TipsPush and Pull: Kitchen Hardware That Is As Practical As It Is PrettyTELL USDo you have a tiny kitchen? What works for you? Let us know in the comments section below.
Kitchens with Similar Colours