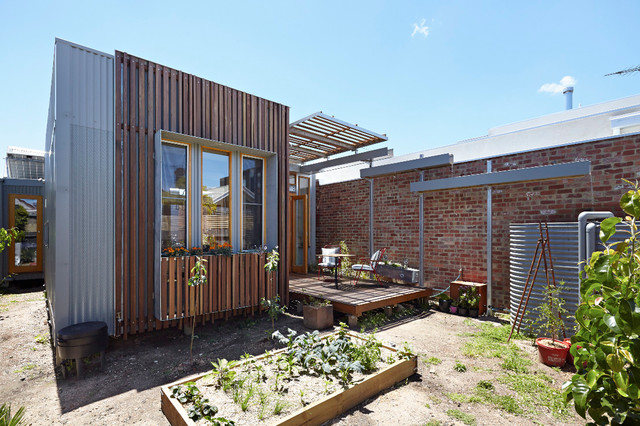 Convertible Courtyards House
Contemporary Exterior, Melbourne
Photo: Nils Koennig, www.nilskoenning.com
Contemporary exterior in Melbourne. — 
Houzz
What Houzz contributors are saying:

The Plumbette added this to Your Spring Outdoor Maintenance Plumbing Guide
6 September 2018
Check your ORG isn't covered with debrisThe grated drain outside your home is known as an overflow relief gully (ORG). Its specific purpose is to ensure an overflow of sewage comes through that grate in the backyard, instead of your home, should the street sewerage system ever back up.Your ORG will have a pop-up grate covering the drain that youngsters can be notorious for removing and throwing rocks and debris down. Don't ever cover an ORG or glue a lid on the grate as this opening is necessary for backups to flow through.Check your ORG to ensure the grate isn't covered with debris and check the level of water – if the water is quite high, you may have a blockage in your main sewerage line.

Rebecca Gross added this to Take a Designer Approach to Your Downspout
29 November 2016
Working waterfallIn this innovative courtyard, a series of cascading trays channel water from the roof and away from the house, into a water tank at the end of the garden so that it can then be reused.

Jenny Drew added this to Houzz Tour: Convertible Courtyards Offer Versatility in Melbourne
7 May 2014
Here is a glance at the back of the house and a hint of things to come. We can see some elements of the extension – corrugated metal, reclaimed wood, decent-size windows – as well as scuppers leading from the house to a water cistern in the backyard. One of the courtyards is visible, covered by a slatted canopy.
What Houzzers are commenting on: