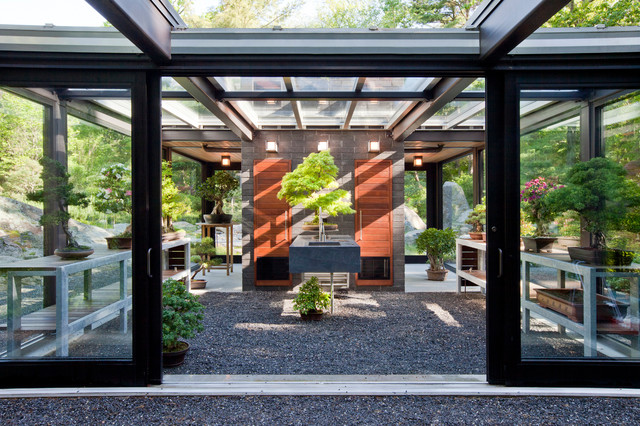 Glass House in the Garden
Modern Granny Flat or Shed, Boston
Modern glass house set in the landscape evokes a midcentury vibe. A modern gas fireplace divides the living area with a polished concrete floor from the greenhouse with a gravel floor. The frame is painted steel with aluminum sliding glass door. The front features a green roof with native grasses and the rear is covered with a glass roof.

Photo by: Peter Vanderwarker Photography
Photo of a small modern detached garden shed in Boston. — 
Houzz
What Houzz contributors are saying:

Janet Dunn added this to Little by Little: Why Growing a Bonsai Could Change Your Life
28 February 2017
Is bonsai cruel to trees?Some people believe bonsai is torturing a tree. Coaxing certain characteristics from a plant is no crueller than the European taste for espaliering, topiary, pleaching, hedging or standardising. Every time we pot or prune a plant its natural growth is altered. A bonsai may thrive better than a tree in the wild at the whim of natural forces, and reaches its potential – in a small way – while giving immense pleasure and artistic expression to its grower.Tell usDo you like the concept of bonsai? Perhaps you have one in your home or garden? Tell us in the Comments section.MoreBrowse more outdoor ideas

Grace Chamia added this to Plant Profile: Pot Belly Fig, the Perfect Bonsai for Beginners
19 August 2015
WATER: Generously water regularly when the soil gets slightly dry – once or twice a week. For a really happy plant, spritz with water daily to maintain humidity. FERTILISE: Every two weeks during the warmer months and every four weeks during colder months with general purpose liquid fertiliser. REPOT: Repotting is often only necessary for aesthetic reasons – the pot may become a mass of roots, for instance, but in most cases, this is beneficial because it slows down the growing process and will keep your bonsai compact. If you want to speed up the growing process, repot using general purpose soil. Repotting can be done every two to three years in the spring, depending on the speed of its growth.
What Houzzers are commenting on:

id12fall2020jessicajacobo added this to Glass
13 October 2020
Image #3 I like the glass ceiling which is a way to be in enclosed the space but while still making it feel open
Nicole added this to Custom Home
28 September 2020
indoor and outdoor mix (lines are a little too thick)

ID12Fall2020JULIANSANDOVAL added this to Glass Block
29 August 2020
3: This feels so serene to me. The glass walls and ceiling really open up the space to enjoy an outside?inside experience.
Sheds and Granny Flats with Similar Colours