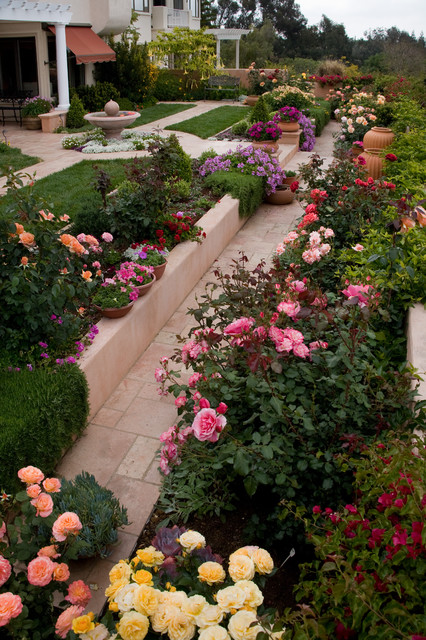 Grace Design Associates
Traditional Garden, Santa Barbara
The garden was designed to be enjoyed from ground level and from the balcony above --- with an eyeful of joyous color that suits the client's personality to a tee. Plantings include lots of roses from her "favorite roses" list, with perennials and a few annuals to knit it all together. It can be very challenging to make a collection of plants into a cohesive and delightful garden --- and the strong structure of this garden does just that!
Inspiration for a small traditional formal garden in Santa Barbara. — 
Houzz
What Houzz contributors are saying:

Carol Bucknell Garden Design added this to Top 10 Things to Do in the Garden in June
27 May 2015
4. Plant new rosesJune is also the traditional time to start planting new roses (Rosa) while they are dormant. Make sure stems are smooth (wrinkles indicate the plant may be too dry) and dig holes at least 30 centimetres wide and around 20 centimetres deep. Choose a sunny position where there's plenty of airflow and make sure soil is moisture retentive. A well-drained clay loam (a mix of sand and silt with a slightly higher percentage of clay) is the ideal growing medium for roses. Tip: Mix in some sheep pellets or stable manure and/or well-rotted compost to improve fertility, but do this at least three weeks before planting, so it has time to break down properly and won't burn fragile roots.