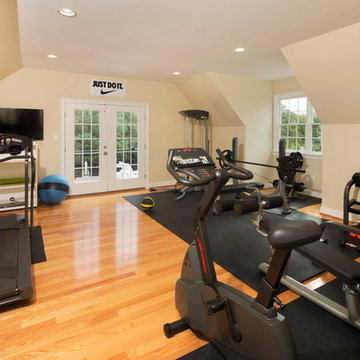 Colonial Homecrafters, Ltd.
Home Gym overlooking pool with outdoor deck above Loggia
Inspiration for a mid-sized traditional multipurpose gym in Richmond with yellow walls, light hardwood floors and orange floor.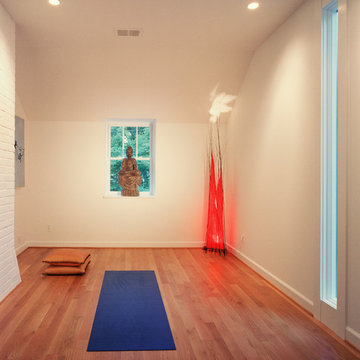 Anthony Wilder Design/Build, Inc.
Robert Lautman
Contemporary home yoga studio in DC Metro with white walls and orange floor.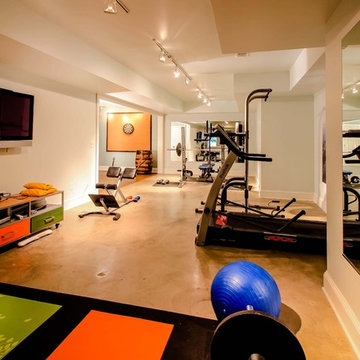 Daniel M Martin, Architect LLC
This modern, industrial basement renovation includes a conversation sitting area and game room, bar, pool table, large movie viewing area, dart board and large, fully equipped exercise room. The design features stained concrete floors, feature walls and bar fronts of reclaimed pallets and reused painted boards, bar tops and counters of reclaimed pine planks and stripped existing steel columns. Decor includes industrial style furniture from Restoration Hardware, track lighting and leather club chairs of different colors. The client added personal touches of favorite album covers displayed on wall shelves, a multicolored Buzz mascott from Georgia Tech and a unique grid of canvases with colors of all colleges attended by family members painted by the family. Photos are by the architect.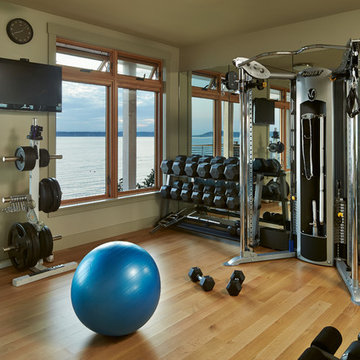 Schultz Miller
Photo: Benjamin Benschneider
Design ideas for a beach style home gym in Seattle with orange floor.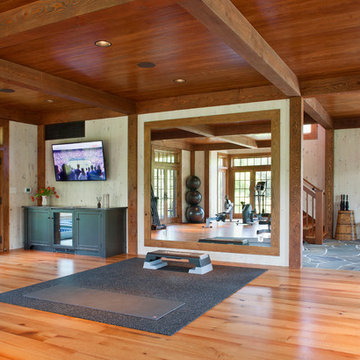 Rill Architects
James Ray Spahn
Photo of a country home yoga studio in DC Metro with orange floor.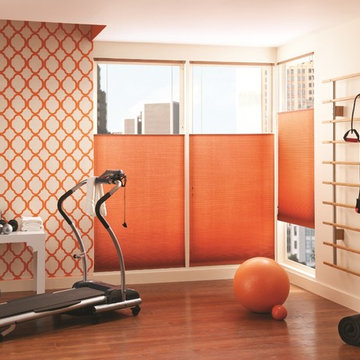 Change of Blinds
Top Down Bottom Up Cellular Shades
Design ideas for a mid-sized contemporary multipurpose gym in Other with orange walls, vinyl floors and orange floor.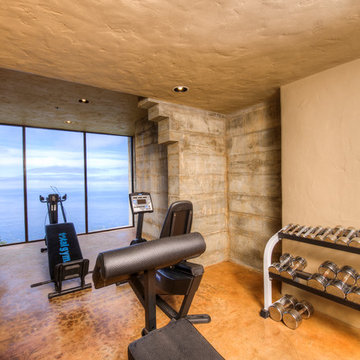 deckerbullocksir
Breathtaking views of the incomparable Big Sur Coast, this classic Tuscan design of an Italian farmhouse, combined with a modern approach creates an ambiance of relaxed sophistication for this magnificent 95.73-acre, private coastal estate on California's Coastal Ridge. Five-bedroom, 5.5-bath, 7,030 sq. ft. main house, and 864 sq. ft. caretaker house over 864 sq. ft. of garage and laundry facility. Commanding a ridge above the Pacific Ocean and Post Ranch Inn, this spectacular property has sweeping views of the California coastline and surrounding hills. "It's as if a contemporary house were overlaid on a Tuscan farm-house ruin," says decorator Craig Wright who created the interiors. The main residence was designed by renowned architect Mickey Muenning—the architect of Big Sur's Post Ranch Inn, —who artfully combined the contemporary sensibility and the Tuscan vernacular, featuring vaulted ceilings, stained concrete floors, reclaimed Tuscan wood beams, antique Italian roof tiles and a stone tower. Beautifully designed for indoor/outdoor living; the grounds offer a plethora of comfortable and inviting places to lounge and enjoy the stunning views. No expense was spared in the construction of this exquisite estate.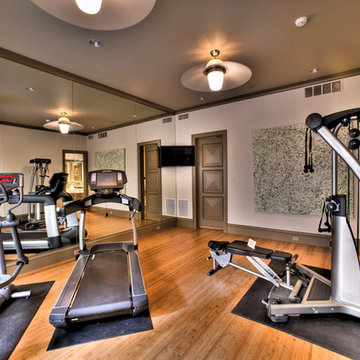 Platinum Homes by Mark Molthan
Exercise Room
Inspiration for a mid-sized mediterranean home weight room in Dallas with beige walls, medium hardwood floors and orange floor.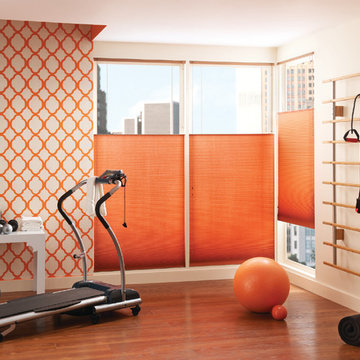 Better Blinds & Draperies
Inspiration for an eclectic home gym in Miami with orange floor.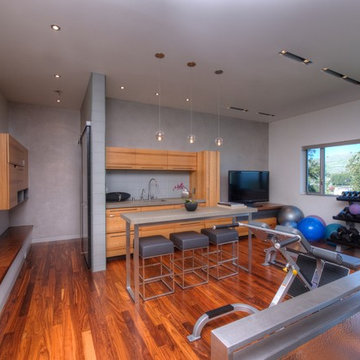 ThompsonBrooks,Inc.
Sheahan and Quandt Architects
This is an example of a contemporary multipurpose gym in San Francisco with grey walls, medium hardwood floors and orange floor.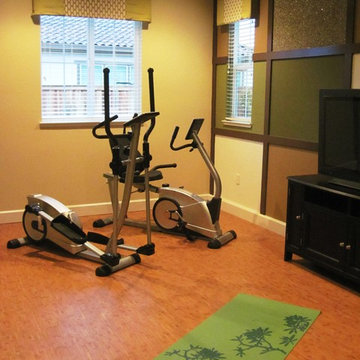 Klang & Associates
home exercise room
Design ideas for a contemporary home gym in San Francisco with orange floor.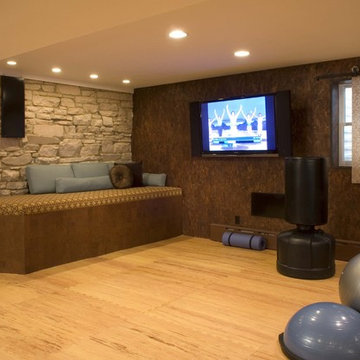 Jodi Feinhor-Dennis
Photo of a contemporary home gym in Denver with brown walls, light hardwood floors and orange floor.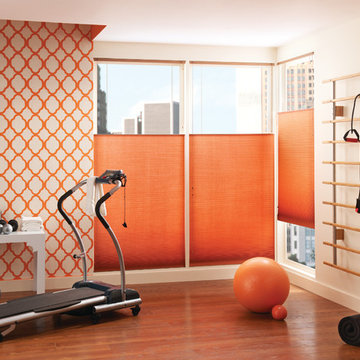 Shademaker Blinds and More
The Cellular Advantage Graber CrystalPleat® Cellular Shades are a stylish way to boost the energy efficiency of your home. An attractive closed cell design creates pockets of air that insulate windows from heat and cold to lower your energy bills year round. Offering excellent sound absorption, cellular shades also reduce noise in rooms with hard flooring. Outfitted with the same benefits on a grander scale, Graber Slide-Vue™ Cellular Shades are specially designed to accompany larger windows and patio doors.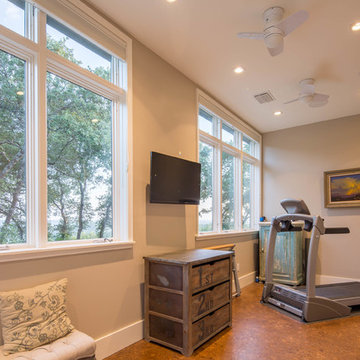 Twelve Stones Designs, LLC
Christopher Davison, AIA
This is an example of a mid-sized transitional multipurpose gym in Austin with beige walls, cork floors and orange floor.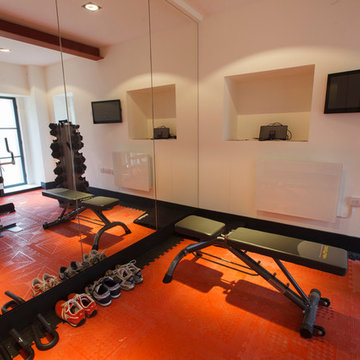 Joel Antunes photography
©joelantunes.co.uk
Photo of an industrial home gym in London with orange floor.

Home Gym Design Ideas with Orange Floor