Griffiths Construction, Inc.
Design ideas for a large country multipurpose gym in Philadelphia with slate floors.


Tamarack North
This rugged Georgian Bay beauty is a five bedroom, 4.5-bathroom home custom build by Tamarack North. Featured in the entry way of this home is a large open concept entry with a timber frame ceiling. Seamlessly flowing into the living room are tall ceilings, a gorgeous view of Georgian bay and a large stone fireplace all with components that play on the tones of the outdoors, connecting you with nature. Just off the modern kitchen is a master suite that contains both a gym and office area with a view of the water making for a peaceful and productive atmosphere. Carrying into the master bedroom is a timber frame ceiling identical to the entry way as well as folding doors that walkout onto a stone patio and a hot tub. Tamarack North prides their company of professional engineers and builders passionate about serving Muskoka, Lake of Bays and Georgian Bay with fine seasonal homes.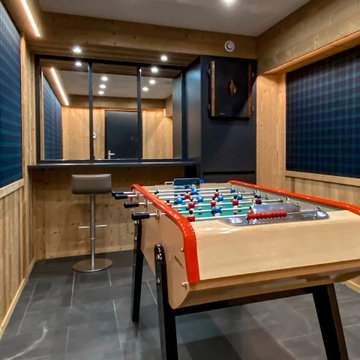 B-atHome
Design ideas for a mid-sized country multipurpose gym in Other with multi-coloured walls, slate floors and grey floor.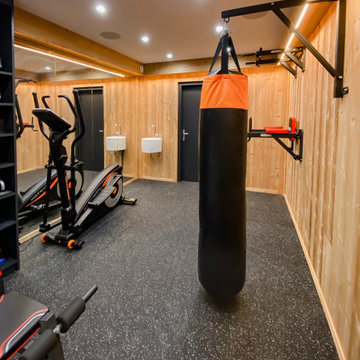 B-atHome
This is an example of a mid-sized country home weight room in Other with multi-coloured walls, slate floors and grey floor.

Home Gym Design Ideas with Slate Floors