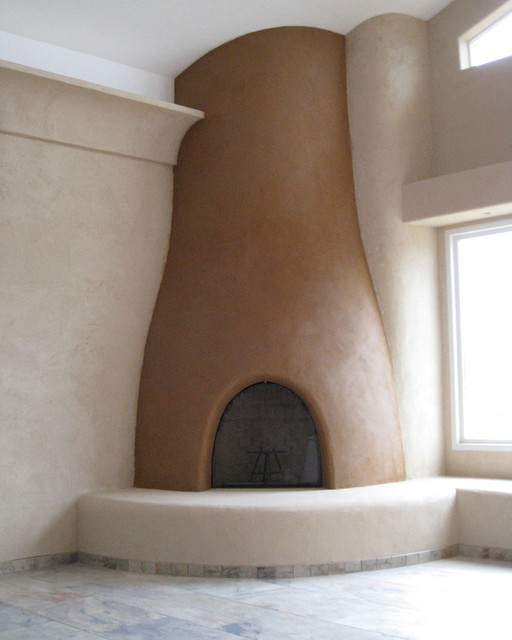 Humel Straw Bale Home with Clay Plaster
San Diego
This kiva fireplace features a clay plaster made from the red, clay-rich soil found on the property. The walls are American Clay plaster in Nantucket Sand.
What Houzz contributors are saying:

BP Architects added this to Field Trip: The Beauty of Straw-Bale Homes
11 July 2017
InstallationTypically when building with straw bales, the bales are placed on a raised footing with a moisture barrier. This can be a row of bricks with gravel between to allow for any moisture to be kept away from the bales, and to separate the bales from the footing. The bales are 'pinned' together with poles of bamboo, metal or wood; these are threaded through the bales in a vertical direction. Surface mesh, such as chicken wire, is fixed to the face of the bales and the whole surface is plastered with a lime-based plaster, or in some cases, a clay render. After the straw bales have been installed, and chicken wire fixed in place, the straw-bale walls are rendered. The edges of the straw bales can be curved slightly with the chicken wire. Loose straw can be installed to fill any gaps between the chicken wire and the straw bales. It is during renderings that the surface of the straw-bale walls can be smoothed over to create gentle curved surfaces on the reveals.See more stunning home exteriors

Liz Durnan added this to 11 Reasons to Live in a House of Straw
17 February 2015
7. And look greatAs well as feeling cosy and ambient, a strawbale house can look very different from a house built of more conventional materials – the beautiful rendered walls and fireplace shown here are made from the red, clay-rich soil found on the US property.
What Houzzers are commenting on: