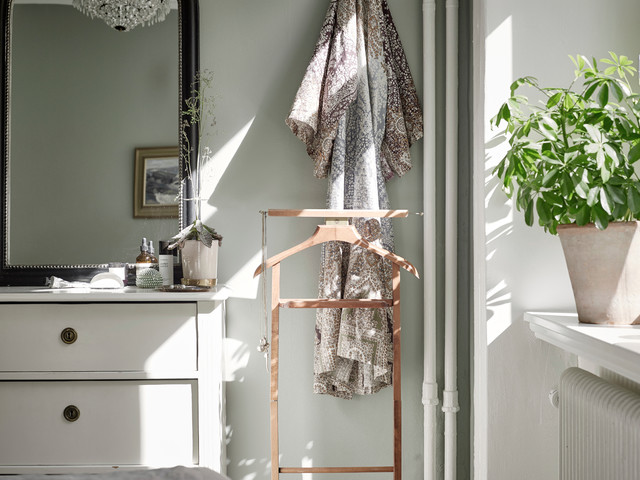 Inspiration sovrum
, Gothenburg
What Houzz contributors are saying:

Janet Dunn added this to Work From Home? Here's How to Maintain a Work-Life Balance
30 Jan 2017
Get dressedWe spend more time on our appearance when we'll be face to face with other workers. One of the joys of a home job is that we can spend less time putting on our 'public' face. Resolving to ditch the dressing gown is a small but powerful tool to help divide personal-life you from work-life you. Without reaching for the power suit, put on comfortable clothes you could happily answer the door or meet a client in.

Janet Dunn added this to Your Summer Bedroom: How to Keep Your Cool on Steamy Nights
29 Sep 2016
Say nightie-nightSleepers have strong opinions about what to wear to bed, and a survey by mattress company Ergoflex showed only 18 per cent of Australians sleep au naturel. With nothing between you and the sheets, your body temperature regulates itself naturally. If nocturnal nudity isn't for you, wear night attire that helps keep you cool. Lightweight cotton is breathable, but not as effective at wicking moisture away from the skin as bamboo and silk. Loose nightwear is good, but not loose enough to wake you up in a tangle.

Antonia af Petersens added this to The New Nordic: Scandi Style Embraces Colour
6 May 2016
The Nordic consciousness in terms of colour and design has lately been augmented by influential interior design bloggers, who have shared their advice on colour codes. Arguably the most famous bedroom colour in Sweden in recent years has been nicknamed 'Tant Johanna's Green' (pictured) after stylist and blogger Johanna Bradford, who painted her bedroom in the pale grey­-green colour."The fact that so many questions popped up about the colour was in part due to the timing, as white walls had been dominating for years, and also because people were eager to try something else," Bradford says. "But it's also because it's so difficult to find the right colour, and that particular one is so unbelievably nice. If you see a colour you like, you might as well ask for the colour code."So, despite the fact that Scandinavians have begun painting with colours, they appear to do it within specific boundaries – the hues are subdued, rather than brash and bold, for example. "We dare to use more than just white, but I still think the end result is quite similar everywhere, since most people choose the same colours – as in the example of my bedroom wall," Bradford says. Where do colour trends come from?
What Houzzers are commenting on:
People who liked this photo also liked
Homes with Similar Colours