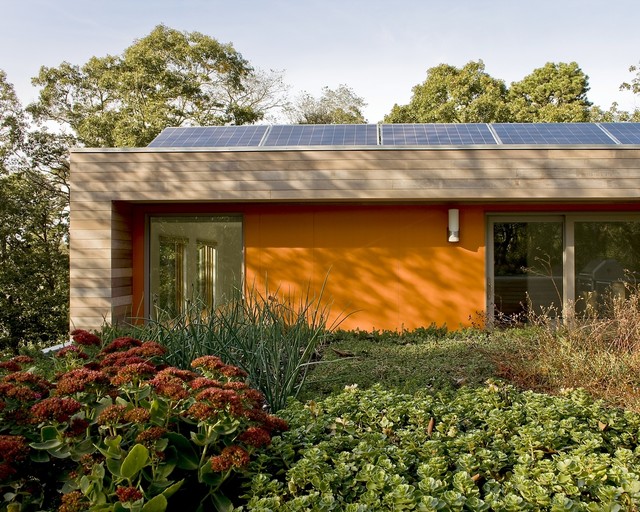 Living Green Roof with Solar Panels
Modern Exterior, Boston
Modern Cape Cod green home earned LEED Gold certification for green features including solar electric, a green roof, and the use of sustainable materials. Construction by Cape Associates. Photos by Michael J Lee. Green architecture by ZeroEnergy Design. www.Zeroenergy.com
Design ideas for a modern one-storey exterior in Boston. — 
Houzz
What Houzz contributors are saying:

Julia Fairley added this to Your Spring Outdoor Maintenance Plumbing Guide
26 September 2018
Solar panels will also require a maintenance check and a clean to ensure they work efficiently during summer. The film of dust that can cover your panels can decrease their absorption by up to 30 percent. 10 Ways to Green Up Your Plumbing

Mark Gregory added this to How to Write a Design Brief for Your New Home or Reno
1 March 2017
5. Establish big-picture goals and priorities for the projectYou should now have a pretty good handle on the specifics of each room. Now it's time to take a step back and think about the project as a whole. As with any project, it's important to establish a clear list of goals from the outset. These goals will help guide the decision-making process as you move forward, and form a handy touchstone when you face difficult choices or conflicting opinions. They might be environmental goals, such as minimising energy use or water consumption, or economic goals, such as maximising affordability and minimising ongoing maintenance costs. Your goals could also be personal ones, such as allowing for flexibility towards any future lifestyle changes or creating the perfect place to hold lavish dinner parties. Think of your goals as the values you want your final design to embody.

Rebecca Gross added this to Solar Panels: Make Electricity While the Sun Shines
15 October 2016
Positioning solar panelsThe effectiveness of solar panels will depend not only on location, climate and weather – the more the sunlight the better – but also how they are positioned on a roof. Solar panels work best when they're north facing. They should be positioned at an optimal angle – sitting flush with the roof or angled off the roof – and not blocked by trees or other structures shading the roof.Some panels have better temperature tolerance than others, which can suit milder or hotter climates. For example, solar panels should be directed at the sun, but they can become less efficient as they get warmer, due to the physics of the photovoltaic effect. This means some panels may be more efficient on a mild day than a very hot day, and that the panels should be installed to allow air circulation beneath them to help them cool.
What Houzzers are commenting on: