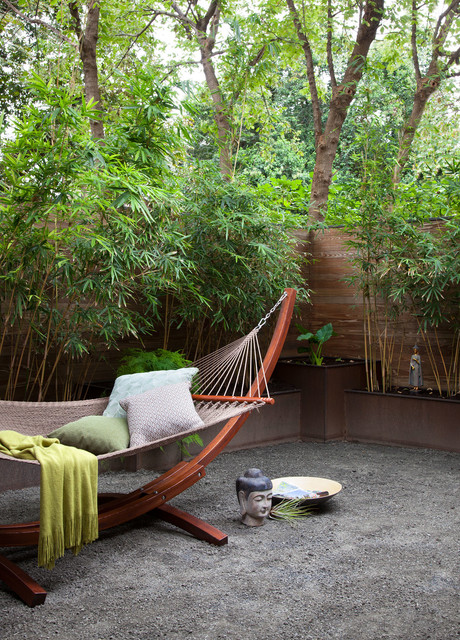 Meditation Courtyard
Asian Garden, Austin
Inspiration for a mid-sized asian garden in Austin with gravel and a retaining wall. — 
Houzz
What Houzz contributors are saying:

Georgia Madden added this to How Do I... Choose Fast-Growing Privacy Plants?
3 April 2018
What's special about hedges? While built screens such as fences give you instant privacy, who wants to spend years looking at timber slats or lattice when you could be looking at a lush green or flowering backdrop instead? Screening hedges don't just create a living, breathing divider between your property and your neighbour's, they'll beautify your outdoor space too. If privacy is a priority, look for plant species that: Are fast growing,Have small, densely packed foliage as this will give a denser screen,Take to trimming well, andHave the right mix of upright and horizontal growth.Tip: Choose a variety that is taller than you actually need. For example, if you need a two-metre-high hedge, select a variety that grows to three or five metres. Why? A plant can take up to a decade to reach its maximum height, and even then may only do so under ideal conditions. But it may only take 18 months to get to a third or so of its potential maximum. When it reaches the height you want, simply prune off the top.

Louise O'Bryan added this to Going Green: How to Decorate Your Bare Courtyard From Scratch
4 October 2017
Make it a relaxing sanctuary If you have no space for dining furniture, or you'd rather give the courtyard a more personal, low-key look, consider hanging a hammock instead. You'll create an instant holiday feel, which can easily be adapted if you ever need more space for entertaining. Tell us How have you made the most of your small courtyard? Tell us in the Comments. And if you enjoyed this story, like it, bookmark it and save the photos. MoreSee more compact courtyards on Houzz

Laura Gaskill added this to Wonderful Ways to Spend a Weekend Off
4 April 2016
Read, journal and daydreamWhether it's a sunny window or a backyard hammock, choose the best seat in the house for getting lost in a good book. Take along a journal and pens in case you get inspired to write down your thoughts – and if you're not sure what to journal about, making a 'things I'm grateful for' list is always a winner.
What Houzzers are commenting on:
Gardens with Similar Colours