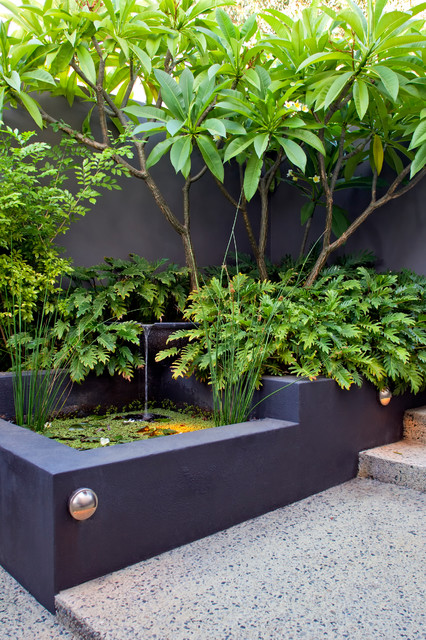 Melville courtyards
Tropical Garden, Perth
This is an example of a small tropical courtyard full sun garden in Perth with decking and a water feature. — 
Houzz
What Houzz contributors are saying:

Joanna Tovia added this to 10 Terrific Trees for Your Courtyard
3 April 2017
2. Philodendrons These are classic courtyard plants, some of which are trees, and are well suited to indoor growing as well. They tend to do better in more tropical environments, so check with your nursery expert to see if they recommend the species of philodendron you've chosen. A good starting species is Philodendron bipinnatifidum which grows well in sheltered sites as far south as Melbourne, and is perfect for a small secluded courtyard.

Janet Dunn added this to 5 Ways to Give Mosquitoes the Flick... Nicely
18 October 2014
4. Clean Water OnlyMosquitoes breed in moist conditions. Cleaning out possible habitats at the beginning of the season is a good precaution. These include gutters and damp stagnant garden areas such as leaf piles and tanks. Keep water at a distanceTry to plan your garden so water features such as ponds are not too close to outdoor entertaining areas. Turn electrical water features on regularly to keep water circulating and to inhibit growth of moss and sludge.

What Houzzers are commenting on:
Gardens with Similar Colours