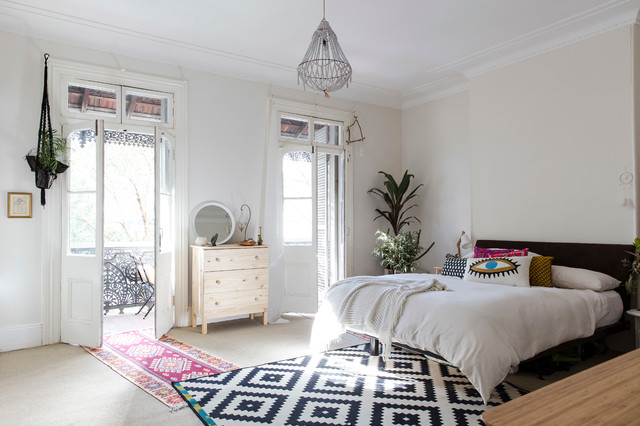 Newtown House
Eclectic Bedroom, Sydney
Inspiration for an eclectic bedroom in Sydney with beige walls and carpet. — 
Houzz
What Houzz contributors are saying:

Janet Dunn added this to 11 Hardy House Plants That Thrive on Neglect
10 January 2017
Cast-Iron PlantBotanical name: Aspidistra elatiorWartime songbird Gracie Fields sang about "the biggest aspidistra in the world" that "shot up like a rocket till it nearly reached the sky." It won't – about a metre is its limit, but isn't called cast-iron plant for nothing. These tough, leathery, slow-growing plants brought a tropical touch to Victorian parlours and will truly thrive on neglect. There's a fine specimen lurking in the corner of this Sydney bedroom.Prefers: Not finicky about water, light, dust or heat, but would prefer a cooler spot. Wiping its leaves occasionally brings out their glossy green.Hates: Nothing.TELL USHave you had success with a particular house plant? Share your indoor gardening tips in the Comments sectionMORERead more about creating a healthy home

Melissa Cowan added this to Free-Spirited Boho Bedrooms Go Their Own Way
5 January 2017
Soft bohemianBohemian style doesn't have to be in your face. The bedroom pictured makes good use of big-patterned overlapping rugs to rejuvenate worn carpet floors. The focus on white floors and decor makes the sparing use of colour and pattern stand out without looking overbearing. There is a love of the feminine present with a soft bohemian room, an ode to both beauty and comfort. Tip: Don't shy away from natural light. Open your blinds, windows and doors to let in as much fresh air and sunshine as possible.

Emily Hutchinson added this to Behind the Lens: Houzz Photographers Share Their Favourite Shots
10 February 2016
3. Getting light rightPhotographer: Pablo VeigaCamera: Canon EOS 6DLens: Canon EF 24-70mm f/2.8LCamera settings: ISO: 200, aperture: f/8.0, shutter speed: 1/5About the homeThis is a five-bedroom share house in the trendy suburb of Newtown in Sydney. Five young women in creative professions live here, and showed off their individual style at home. This bedroom belongs to Olivia Tuivaga, who got the largest bedroom of the house – she regularly sits out on the balcony off her room to watch the street traffic below.Take a look at the rest of this share houseAbout the image"I like this image as it really sums up the Newtown house and its vibe," says Veiga. "When I got there it was a Saturday morning, and I noticed that the front facade of the house was the only area with direct sunlight. I knew that I wanted to explore those rooms first. We did a little tour of the house and bingo – the room was big and spacious with tons of beautiful, natural winter light, plants in the corner and a great mix of boho-eclectic style – it was perfect." "I overexposed the image so the windows and the outside is blown out (almost white) but the interior still has a good exposure and balance – you can still see the light entering the room," he adds. "I wanted a wide-angled shot without distortion as it was a large room. I did this by using a fast lens wide enough for interiors, without the big distortion that other ultra-wide lenses can give."
What Houzzers are commenting on:

Aseel Al-Rawe added this to Tamara Bedroom
17 August 2020
Like the rugs and plants. Gives the room some character. Otherwise the room is simple and elegant