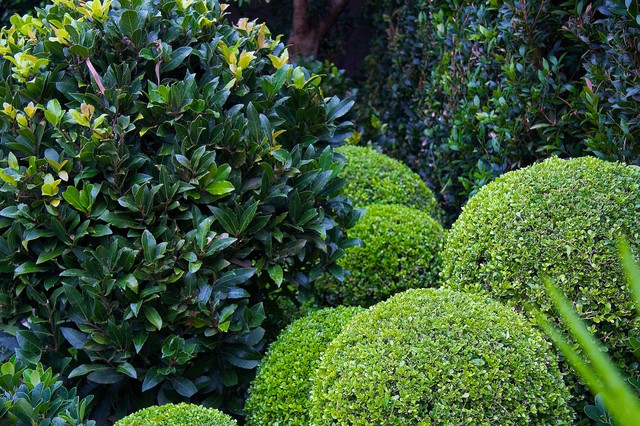 Northbridge
Traditional Garden, Sydney
Clipped Japanese Box balls (Buxus microphylla var. japonica) and Bay tree ball (Laurus nobilis) create sculptural interest from green foliage with contrasting texture and colour.
Photography © Nick Kennedy
Traditional backyard full sun formal garden in Sydney. — 
Houzz
What Houzz contributors are saying:

Carol Bucknell Garden Design added this to Screen Stars: 10 Hedging Plants With Punch and Panache
15 March 2016
5. Japanese boxIf you love the look of box hedging but not the slow growth rate then Japanese box (Buxus microphylla japonica) is for you. With a growth rate almost twice as fast as English box and more distinctive shiny lime green leaves, this Japanese variety is now the preferred option for many garden designers and gardeners.It is also said to be more disease resistant and heat tolerant than English box. Plants will grow up to 2 metres in height but are happy to be kept clipped as low hedges.

My Verandah added this to 10 Tips for Creating a Formal Garden in the Subtropics
11 May 2015
2. Relish the juxtapositionUsing plants repeatedly within the garden creates a sense of order, and judicious repetition throughout a garden reinforces the strength of design. Typical formal planting includes manicured shrubs, clipped low hedges and large privacy screens that create garden walls. Subtropical lush planting can then be overlaid to juxtapose the rigidity.

Outdoor Establishments added this to Tricks to Make Your Walled Courtyard Look Bigger
5 February 2015
Texture, like colour, affects perceived distance, too. Fine textured plants tend to reflect more light and stand out to the eye, so use them in the foreground. On the other hand, coarse foliage tends to have a lot of gaps and holes, resulting in dark spots and shadows. These plants tend to not stand out in the garden, making them great background plants.
What Houzzers are commenting on:
annrotman added this to Front Yard Landscapes
4 April 2020
like the look of this dark green leathery leaf-looks like a magnolia? looks good with the boxwoods