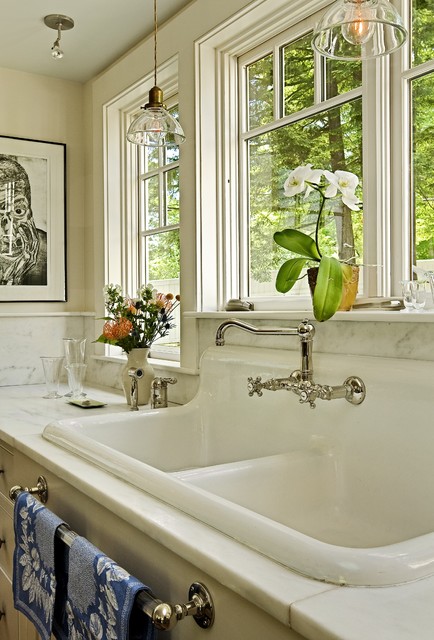 Repurposing salvaged sink
Traditional Kitchen, Burlington
This salvaged kitchen sink was found awhile ago by the client who new she wanted to use it if ever she renovated. Integrated beautifully into the Danby marble countertop and backsplash with new fixtures it is a real joy to clean up.
This kitchen was formerly a dark paneled, cluttered, divided space with little natural light. By eliminating partitions and creating an open floorplan, as well as adding modern windows with traditional detailing, providing lovingly detailed built-ins for the clients extensive collection of beautiful dishes, and lightening up the color palette we were able to create a rather miraculous transformation.
Renovation/Addition. Rob Karosis Photography
Traditional kitchen in Burlington with a drop-in sink, marble benchtops, white splashback and stone slab splashback. — 
Houzz
What Houzz contributors are saying:


Joanna Tovia added this to Is Your House Making You Sick?
25 June 2014
The kitchen sink is usually the dirtiest part of the house. Wash dishcloths often to stop them dragging germs all over the kitchen, and replace every month or so. Also, be sure to get everyone at your house to spread out dishcloths to dry rather than leaving them scrunched up in a ball in the bottom of the kitchen sink – a habit I'm trying to actively encourage my children to leave behind in a hurry!

Joanna Tovia added this to 16 Sink Designs for Kitchens of All Kinds
2 May 2014
9. Problem solverThis variation on the farmhouse sink is just as appealing. For those wanting a sink in this style but hoping to avoid cutting into the benchtop and lower cabinets during its installation, this could be the solution.