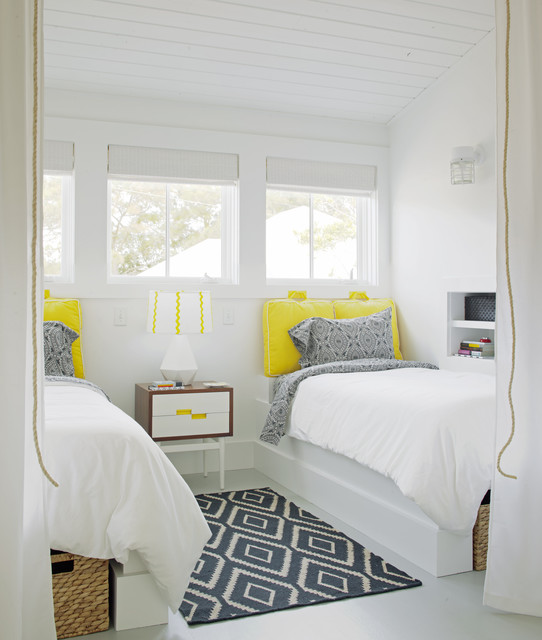 Sleeping Loft - Dormers
Transitional Bedroom, Atlanta
Second story sleeping loft located on Tybee Island in Savannah, GA. Behind the white flowing curtains are built in beds each adorned with a nautical reading light and built-in hideaway niches. The space is light and airy with painted gray floors, all white walls, old rustic beams and headers, wood paneling, tongue and groove ceilings, dormers, vintage rattan furniture, mid-century painted pieces, and a cool hangout spot for the kids.

Floor Color: BM Sterling 1591
Blinds: Rio Linen Roman shades
Wall Color: SW extra white 7006
Rug: West Elm
Built-in Beds: Rethink Design Studio
Bedside Table: Vintage teak tables with painted base and drawer fronts. Powder coated aluminum pull hardware
Lamp: Robert Abbey with Ric Rac embellished shades by Rethink
"Headboard": Target outdoor floor cushions
Duvet Cover: Target
Sheet & Pillow: Amy Butler
Baskets: Target
Drapery Fabric: West Elm
Drapery Designed by: Rethink Design Studio
Telephone: Vintage
All Other Accessories: Homeowner's Collection.

Inspiration for a small transitional guest bedroom in Atlanta with white walls and painted wood floors. — 
Houzz
What Houzz contributors are saying:

Lara Sargent added this to Indulge Your Love of Bedlinen for That Finishing Touch
7 June 2015
Freshen up a twinCitrus yellow is such an on-trend colour for our homes this season and it works brilliantly with soft grey and pristine white.When it comes to dressing twin beds for a guest room, this trio of colours is neither too feminine nor too masculine, and instead instils a fresh, modern spirit that will put a smile on the face of every visitor.
Youthful Habits added this to 15 Ways You Can Easily Detox Your Home
3 July 2014
7. Keep house dust to a minimumOn average, a gram of household dust contains approximately five million fungal spores, seven million bacteria, 8000 algae and 12 mites, and that's before you add the chemicals, fluff and skin cells! A good idea is to lightly dampen your dusting cloth so it picks up dust particles more easily.

Jenny Drew added this to Clever Cleaning: Why Baking Soda Is Your New Best Friend
11 May 2014
Bedroom, living room and hallBefore you vacuum the carpets or clean your upholstery, sprinkle them with baking soda and let it sit for 15 minutes to remove any odours.Deodorise your wardrobe by placing an opened box of baking soda on a shelf.Clean children's toys with the aforementioned basic mixture and a sponge. Rinse and let them dry.Deodorise stuffed animals with a light dusting of baking soda; let it sit 15 minutes, then dust or vacuum it off.Freshen shoes with a light dusting of baking soda on the inner soles.
What Houzzers are commenting on: