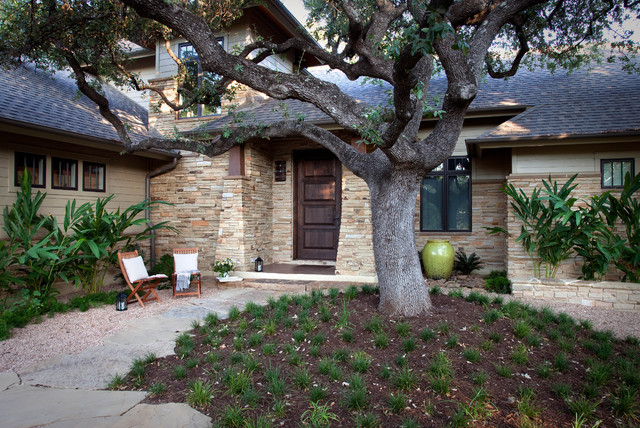 Travis Heights 2
Contemporary Garden, Austin
Photo of a contemporary front yard garden in Austin. — 
Houzz
What Houzzers are commenting on:

Mary Clark added this to Landscaping
28 March 2021
All that being said, some studies show that a circle of mulch around trees and shrubs increases their rate of establishment and growth over the years. How's that for conflicting info about mulch? Keep in mind, though, that a tree's feeder roots will eventually reach out to at least twice the tree's height — that's one really big potential mulch circle. B. Jane Gardens Wood mulch maybe isn't the best mulch. Designwise, I feel that mulch maroons plants and makes a perennial bed look like every other perennial bed. Mulch is default landscaping, and it kind of bugs me, as it's very boring. If you can't afford more plants, buy plugs, which are often a third the price of larger pots and give you more plants for your buck. In a worst-case scenario, plugs establish and spread just as fast as much larger root-bound nursery pots. More plants. More awesome.
cecimo added this to patios, pools and plants
4 February 2018
2. Use plugs and 3-inch container plants. You can save a lot of money by buying plug trays of flowers and grasses from a local nursery or grower, rather than gallon pots for $10 or $15. Plugs often come in groups of 50 or 72. The same strategy can be used for trays of 3-inch containers; the containers often come in groups of 32. A general rule of thumb is to plant 12 inches apart on center.
Gardens with Similar Colours