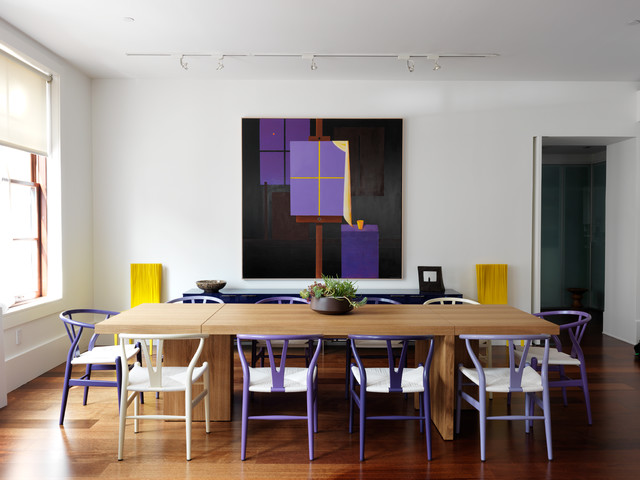 TriBeCa Loft
Contemporary Dining Room, New York
Photo of a large contemporary dining room in New York with white walls and medium hardwood floors. — 
Houzz
What Houzz contributors are saying:

Vanessa Walker added this to Pantone Issues 2018 Colour of the Year – Interior Designers React
6 December 2017
Simpfendorfer suggests using Ultra Violet to punctuate an otherwise neutral scheme consisting of elements such as warm white walls, oak floors and natural linens. "You can help work intense violet into an otherwise neutral scheme by using supporting shades from the purple family, such as a muted purple sofa with vivid violet scatter cushions."

Georgia Madden added this to A Colourful Life: Behind the Scenes With a Colour Consultant
30 August 2017
What's the one colour that really divides people?Green. But like all colours, there are so many different kinds of green. There is a whole range of gum-leafy soft grey-greens that are very liveable. And people are terrified of purple, but purple can be fantastic. Think of jacaranda trees signalling that Christmas is around the corner. Our NYC loft (above) uses purple to evoke the Blue Mountains, but it is used carefully, not in great swathes on walls.Read more colour stories

Georgia Madden added this to Pro Panel: 8 Reno Blunders and How to Avoid Them
30 August 2017
5. Blunder: Cutting costs on labour and workmanshipCutting costs can cost you more in the end. Quotes can vary heavily between renovation companies, and it pays to double check what each one is offering in terms of experience, qualifications and overall scope of works. It's easy to cut costs on fittings and fixtures, but cutting costs on labour and qualifications will cost you dearly in the end. You need to ensure that the company you choose is qualified to handle every part of your renovation. For instance, many tilers will offer to waterproof your bathroom, but waterproofing is a licensed trade and should be completed by someone qualified.
What Houzzers are commenting on:
id10s20sahiramazariegos added this to Color
2 September 2020
Complementary. Colors that are opposite from each other on the color for example purple and yellow. These are colors are vibrant and can make a room feel very lively.

Ethan Clark added this to Color Schemes
29 April 2020
Double Complementary Color Scheme It uses white, black, purple, and orange. These are two sets of complementary colors. The purple and orange look nice together.

Kelci Brooks added this to Kelci's ideas
26 February 2019
This dining area is an example of a complementary color scheme it has yellow and purple in the picture. A complementary scheme is just when two colors are opposite each other on the color wheel.
Dining Rooms with Similar Colours