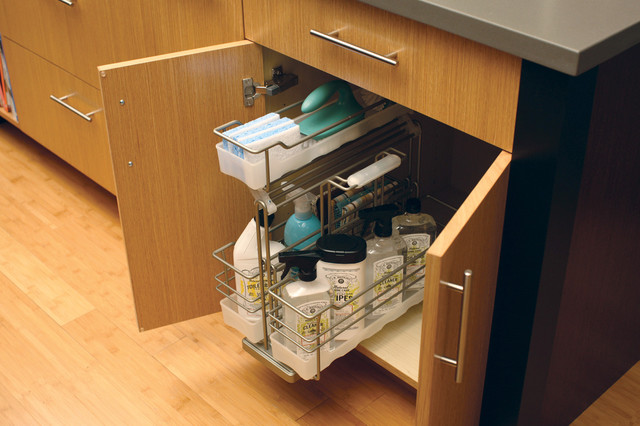 Urban Loft – Storage Solutions
Contemporary Kitchen, Minneapolis
Storage Solutions - Organize cleaning supplies in our convenient pull-out caddy with a detachable, portable basket (SBPOC).

"Loft" Living originated in Paris when artists established studios in abandoned warehouses to accommodate the oversized paintings popular at the time. Modern loft environments idealize the characteristics of their early counterparts with high ceilings, exposed beams, open spaces, and vintage flooring or brickwork. Soaring windows frame dramatic city skylines, and interior spaces pack a powerful visual punch with their clean lines and minimalist approach to detail. Dura Supreme cabinetry coordinates perfectly within this design genre with sleek contemporary door styles and equally sleek interiors.

This kitchen features Moda cabinet doors with vertical grain, which gives this kitchen its sleek minimalistic design. Lofted design often starts with a neutral color then uses a mix of raw materials, in this kitchen we've mixed in brushed metal throughout using Aluminum Framed doors, stainless steel hardware, stainless steel appliances, and glazed tiles for the backsplash.

Request a FREE Brochure:
http://www.durasupreme.com/request-brochure

Find a dealer near you today:
http://www.durasupreme.com/dealer-locator

This is an example of a large contemporary l-shaped eat-in kitchen in Minneapolis with an undermount sink, flat-panel cabinets, medium wood cabinets, quartzite benchtops, multi-coloured splashback, mosaic tile splashback, stainless steel appliances, light hardwood floors and with island. — 
Houzz
What Houzz contributors are saying:

Revive Your Space added this to 10 Decluttering Jobs You Can Do in Less Than 30 Minutes
2 January 2019
4. Delve under the sinkSlide-out storage that fits in the awkward area underneath your sink is a great solution to avoid having half-used bottles of cleaning products festering at the back of the cupboard. A good immediate solution is a small box or two that you can pull out like a drawer to easily access products stored at the back.There are so many single-purpose cleaning solutions available now that it's easy to end up with zillions of products that are rarely used. With a few exceptions, multi-purpose cleaning products are the best option. And many people are now choosing chemical-free cleaning alternatives such as microfibre cloths that can be used simply with water.7 All-Natural Cleaning Products Good Enough to Eat

Amanda Pollard added this to 11 Awkward Areas to Put to Use in the Kitchen
5 June 2017
5. Organise the cupboard under the sinkYes this space does get used, but for most of us that means half empty bottles of cleaning products and a whole lot of other kitchen paraphernalia scattered everywhere and often forgotten. A pull-out system like this one (again, available at most larger DIY stores) will put you – and your kitchen products – on the straight and narrow. As a temporary measure, use trays or boxes to enhance order, making it easier to grab what you need.
What Houzzers are commenting on:
Kitchens with Similar Colours