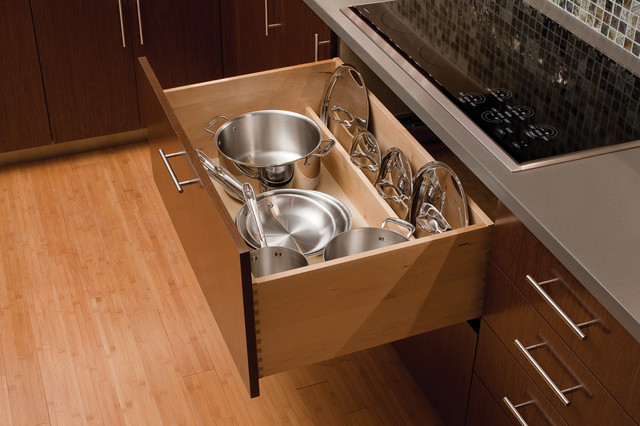 Urban Loft - Storage Solutions
Contemporary Kitchen, Minneapolis
Storage Solutions - A lid partion at the back of a wide, deep drawer neatly stores pot and pan lids for easy access.

"Loft" Living originated in Paris when artists established studios in abandoned warehouses to accommodate the oversized paintings popular at the time. Modern loft environments idealize the characteristics of their early counterparts with high ceilings, exposed beams, open spaces, and vintage flooring or brickwork. Soaring windows frame dramatic city skylines, and interior spaces pack a powerful visual punch with their clean lines and minimalist approach to detail. Dura Supreme cabinetry coordinates perfectly within this design genre with sleek contemporary door styles and equally sleek interiors.

This kitchen features Moda cabinet doors with vertical grain, which gives this kitchen its sleek minimalistic design. Lofted design often starts with a neutral color then uses a mix of raw materials, in this kitchen we've mixed in brushed metal throughout using Aluminum Framed doors, stainless steel hardware, stainless steel appliances, and glazed tiles for the backsplash.

Request a FREE Brochure:
http://www.durasupreme.com/request-brochure

Find a dealer near you today:
http://www.durasupreme.com/dealer-locator

Inspiration for a large contemporary l-shaped eat-in kitchen in Minneapolis with an undermount sink, flat-panel cabinets, medium wood cabinets, quartzite benchtops, multi-coloured splashback, mosaic tile splashback, stainless steel appliances, light hardwood floors and with island. — 
Houzz
What Houzz contributors are saying:

Barbra Bright Design added this to A Kitchen Designer Reveals 17 Details to Make a Great Kitchen
16 August 2018
16. Account for lid storageIn some kitchens, storing pot lids can be a nightmare, especially if you stack your pots and pans inside each other or if your drawers or cupboards are too shallow to store these bulky items with the lids on. There are many ways to solve this problem, but my favourite is to create a divider in a pull-out drawer, as shown in this photo.

Janet Dunn added this to Pulling Power: Clever Drawer Tactics for a Kitchen in Apple Pie Order
15 February 2015
Reunite saucepans with their lidsThere are many ingenious cabinetry ideas for keeping pots and pans in close proximity to their lids, like a rear or side divider or a shallow internal drawer above your pots.TIP: Pots and pans are usually standard sizes, and often a saucepan comes with a lid that will fit several other pans. Save space by not storing every lid – just a few that multi-task.

Jennifer Ott Design added this to Stumped by Where to Put Your Pots and Pans?
14 December 2014
IF YOU LIKE YOUR PANS HIDDEN… Deep drawersDeep drawers work well for storing cookware, but if you love to cook, be sure to have enough drawers so you can set your pots and pans in one layer – they'll be easier to see and pull out. A separate area for lids also will keep the drawer neat and easy to use.
What Houzzers are commenting on: