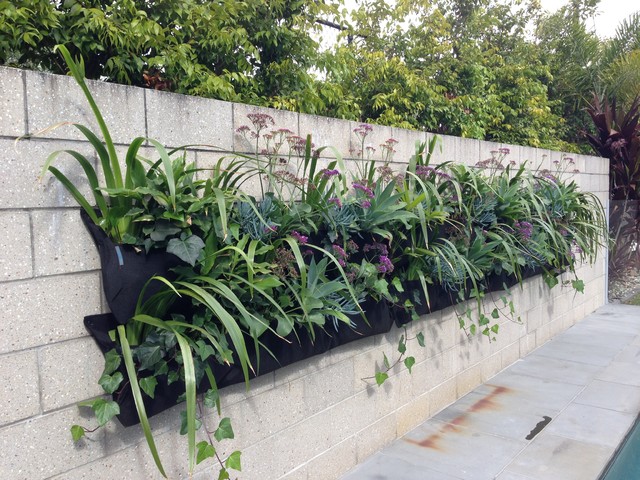 Vertical Gardens
Contemporary, Brisbane
Inspiration for a contemporary home design in Brisbane. — 
Houzz
What Houzz contributors are saying:

Rebecca Gross added this to On the Up and Up: Overcoming Green Wall Challenges
14 August 2016
For this vertical garden by a pool, MacMinn attached the individual pockets to a masonry wall and slightly overlapped each of them to create a solid mass. "I used two rows of 3 x 5 pockets for a total of thirty 300 x 600 millimetre pockets," MacMinn explains. "It was a hot wall so I sourced succulents that could cope with the heat. I used Agave attenuata, walking iris (Neomarica), blue chalk sticks and Limonium perezii [see above]. A year later, I replaced the blue plants with Euphorbia tirucalli or firesticks for a colour pop."

Kerryn Ramsey added this to Outdoor Fix-Ups: Setting Up a Vertical Garden
23 April 2016
Jungle walkWHAT YOU'LL NEED: A felt pocket system, an electric drill, masonry bolts and a spanner.HOW TO: You can attach the felt pocket system directly to the wall in two long rows to help blur the lines between plant, wall and containers. It's almost like a riot of plants growing from a black recess in the wall. Using three or four species of plants gives the garden continuity and a pleasing randomness. AVERAGE TIME: Half a day.

My Verandah added this to From the Pros: Expert Tips on Creating a Vertical Garden
29 September 2014
Selecting the plantsWhen planting a vertical garden I think of the composition; like an artist choosing a paint colour, plants are your palette. Trailing plants, such as ivy, work well around the frame to disguise the edges of the structure. Plants, such as Philodendron 'Xanadu' and Walking Iris, fill the vertical garden with lushness and texture, while a few well-placed bromeliads or orchids draw your eye with their pops of colour. As long as you choose plants for the right position, and with similar needs, there is no right or wrong way to design your vertical garden.
What Houzzers are commenting on: