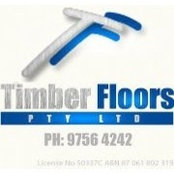 | | |
| --- | --- |
| | Timber Floors Pty Ltd |
Commented: low height solution
Rex Bruker: Yes .. you'll end up with short step .. 240 with 30mm overhang/nosing and roughly 180 rise - 11 treads 12 risers want to know more give me a call 0417260724
Commented: Floor
The beautiful grain and depth of colour of this Blackbutt is more to do with the age of the trees we sourced this timber from being mature trees makes all the difference. Knowing which region to sourc...
Commented: Floor
Hi the photo of the timber floor is an Australian Hardwood species called Spotted Gum now there are various regions in NSW, QLD and others where this timber can be sourced however we buy from private ...
Commented: New Addition
At Timber Floors Pty Ltd we source our timber floors different to other suppliers in the Sydney market, we look for maturity and quality for our flooring and staircase treads. The name of a timber sho...