Zugai Strudwick Architects
About Us
Sydney & Newcastle's Dynamic Team of Innovative Architects
Zugai Strudwick Architects(ZSA) has offices in both Sydney and Newcastle allowing us to undertake projects up and down the east coast with many of our clients having projects in more than one area. We have extensive experience in producing high quality houses in city, rural and regional areas. Our wide-ranging experience across many council areas, with sites of varying constraints and opportunities, has prepared us to deal with any design challenge. Our focus is the delivery of sustainable and innovative design solutions while embracing client expectations and balancing deadlines, budgets and functional requirements.
Services Provided
Architectural Design, Architectural Drawings, Building Design, Energy-Efficient Homes, Green Building, Home Additions, Home Renovating, House Plans, New Home Construction, Project Management, Sustainable Design, Custom Homes, Home Extensions, Home Renovation
Areas Served
Wickham, Merewether, Newcastle, New Lambton, Carrington, Ryde, Epping, Islington, Rothbury, Cherrybrook, Pennant Hills, Leichhardt, Lilyfield, Annadale, Marrickville, Newtown, Erskinville, West Ryde, Gladesville, Drummoyne, Eastwood, Petersham, Haberfield, Maryville, Belmont, Coal Point, Hamilton, Pokolbin, Gosford, Gosford Shire, Central Coast, Lane Cove, West Pennant Hills, Kellyville, Greenwich, Fishing Point, Adamstown Heights, Baulkham Hills, Hurlstone Park, Nelson Bay, Balmain, Riverview, Roseville, Northwood, Five Dock, Elizabeth Bay, Mosman, Hawkes Nest, Maitland, Salamander Bay
Awards
Board of Architects Award - Most Outstanding Student across academia & projects. Lisa Strudwick UTS 2013 Lower Hunter Urban Design Awards Commendation - Residential Dwelling - 'Zelda' Hunter HIA Award - Best Reno/Addition
Professional Information
With over a two decades of experience in architecture, urban design and construction management;
Back to Navigation
Our Stories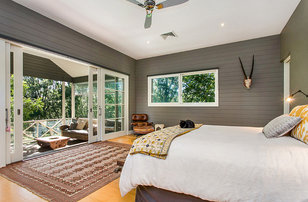 Sponsored story
Plan a home that responds to the seasons and you'll love it all year round, an architect says
Item 1 of 1
Back to Navigation
Back to Navigation
Back to Navigation
Featured Review
I will be recommending ZSA to all of my friends and colleges. If you want someone to take you through a design and DA process with great ideas, skill, foresight, service, communication and delivery this is ZSA
Read Full Review
Write a Review
31 Reviews for Zugai Strudwick Architects
Average rating: 4.8 out of 5 stars
4.8
|
31 reviews
Mel and Lisa have been absolutely amazing throughout our project. From inception, they designed a house well suited to our family. The layout was perfect and included all of our wish list and then some. Our site was not easy, with a huge slope and numerous easement restrictions but Mel and Lisa still managed to design a beautiful and functional home. I cannot thank them enough for all the advise. As all builds go things get adjusted and changed during the build process and Lisa was always quick to respond. Their experience and expertise in the industry showed and I always felt confident and reassured when challenges were met. I cannot recommend this dynamic duo enough, they captured our ideas perfectly and created a home that is sustainable, beautiful and perfect for our family.

We had a great experience planning the renovation of our home with Mel and Lisa! Ours was a tricky project to navigate with a number of challenges and Mel managed us and the process with aplomb. We haven't proceeded with the renovation to date due to the pandemic, however we would have continued to use Zugai Strudwick as project managers if we had done so.
As a couple with nil experience renovating other than chucking a coat of paint on an old weatherboard house, we really had to trust our architect and builder. We found Mel and Lisa excellent in this area, from the first contact we liked Mel's down to earth, pragmatic, realistic approach. She was also very good at taking the sometimes contradictory thoughts of myself and my partner and incorporating both our ideas into the design. Lisa's liaison skills with council DA application and negotiations thereafter were also impressive. The team have a good network of other providers i.e designers and suppliers for fittings and fixtures some of whom we also availed ourselves of! The end result is a solid, well designed extension that is just right for our situation. Absolutely recommend this company for your job however big or small.
They designed a great solution for a tricky site and listened to what was important to us.
Upon engaging the services from Mel and Lisa my husband and I immediately felt at ease. Mels calming nature was very much a welcome amongst the chaos of organising a renovation of our entire house. She answered all of our questions and queries and was able to provide us with a range of ideas and resources or us to access to help us along the way. With baby number 3 on the way we were able to obtain our approval so quickly- being in one of the hot spots in Sydney, we were even more grateful as we needed the extra space in a hurry. Thank you to Mel and Lisa for helping us navigate these difficult times. Hopefully when the build is finished we will be out of lockdown and you can come and see the new the storey and meet our new baby.
My wife and I used Mel and Lisa for a project in Redhead. We had two major issues : 1. Scheduling - the whole process seemed to lack a clear schedule and we had to regularly chase. After discussing our needs and working with them for 5 months we obtained our DA in Jan21. From there it took a further 5 months before we managed to get our first costed plan from the builder. This was despite repeated follow ups and discussions around trying to get some sort of a start date. Despite all of this, Mel kept on telling use that we would be in by Christmas 2021 - something that was clearly fanciful and unrealistic. 2. Budget - If that experience wasn't bad enough, the builders costing came in at THREE TIMES what we had initially discussed as our budget. This was a huge shock to us. At no time did either Mel or Lisa indicate that the design would far exceed the budget. When we challenged that we were told by Mel "Well you guys kept on choosing expensive options". While that may be true, surely a reasonable expectation is to have your professional adviser provide guidance through the process? This did not happen. Confronted with this my wife and I stepped back, decided we could not work with Mel and Lisa and terminated the project, having spent nearly $28,000 on architect and other related fees. I WOULD NOT recommend Zugai Strudwick.

Comment from Zugai Strudwick Architects:
Dear Ed
We are disappointed to hear that you were unhappy with the process. Renovations can be both exciting and daunting. There are many important steps and decisions that need to be made and taking sufficient time and care to attend to the details generally results in a better outcome.
Scheduling: The DA was lodged mid-October and the approval was obtained late January – just over 3 months. Regardless, the length of time it takes for an application to be approved by Council is beyond our control. As discussed with you before lodging with Council, the decision to push into the front setback to improve your ocean views at the expense of the neighbour was a complicating factor. This resulted in an objection which understandably added time to the process.
Closures over the Christmas break; a building boom which resulted in Council receiving an increased volume of applications and the impact of COVID on work practices at this time, were also factors which influenced the time required to process applications.
While we understand that any delay when you are keen to proceed with a project can be frustrating, to receive approval in 3 months under these circumstances was well within the expected time frame.
Construction time frames are the responsibility of the builder which is why we suggested you speak directly with them. As a result of these discussions, we understood that the builder had added your project to their schedule and that while they would do their best to get you in for Christmas, they certainly could not promise that, in part due to supply issues caused by COVID.
Budgeting: On all projects, budget is a very important consideration. One of our biggest challenges as Architects is to maximise the results for our clients within their budget. The starting point is usually a wish list which is refined as various options are explored. Ideas are often expanded or altered as we make clients aware of what is possible. This is an important part of the design process as it assists clients to prioritise the features that are most important to them and in some cases decide what they can live without. As budgets need to be managed, we provide our clients with an option to obtain a cost estimate before proceeding to the approval stage. While we strongly advise that this approach be taken if it is looking as if the budget will be substantially exceeded, sometimes as in this instance, this option was declined to save time.
If projects come in over budget, we are happy to work out where savings can be made in conjunction with the client and the builder and/or seek additional quotes. In this instance these possibilities were not explored as you advised you were purchasing a house in a different area.
We set a high standard for ourselves and strive to conduct our business professionally and with empathy for our clients' requirements.
We wish you well in your new home. Mel & Lisa
I engaged Zugai Strudwick on the recommendation of a friend and a builder. Mel and the team were upfront about costs and at all times the communication was clear and prompt. Mel's calm demeanour and no nonsense approach suited me. She happily made changes and gave suggestions for improvement. She possesses excellent listening skills and helped with suggesting possible builders. I would not hesitate to recommend Zugai Strudwick Architects. The subsequent build has been without stress and her vision for the renovation has come to life.

Relationship
Worked with pro
Lisa & Mel from Strudwick Architects did an amazing design for our holiday house on Lake Macquarie - we wanted to keep the essence of the old 1950's house but bring it into this century They achieved this with simplicity on the exterior and smart layout internally , a changed entry & garage area & boat storage Also they were easy to deal with and accommodating for our many changes Now we are looking to use them for a duplex site in Newcastle


We hired Zugai Strudwick Architects for design drawings, DA documents and submission. We were really pleased with the design ideas proposed and Lisa was really open to working with us and incorporating our own ideas/requests. Would recommend!
I engaged ZSA to take a complex addition to a property through the Development Approval process. I thought it was going to be a difficult project as we had a very small block and wanted to build boundary to boundary and had multiple council controls that needed review. My expectations were exceeded with ZSA, they are very professional and know what they are doing. I was impressed with the design and end product where we have made the most of a small area with complex controls. They drove the DA process the whole way and kept the project moving the whole time. ZSA read the council really well and set up a pre DA meeting to review, this worked out really well as our first submission passed with minimal conditions (a water tank). I've now been able to add a great amount of value to my inner city property and really make my investment work for me into the future. I will be recommending ZSA to all of my friends and colleges. If you want someone to take you through a design and DA process with great ideas, skill, foresight, service, communication and delivery this is ZSA.
Great job - down to earth and practical. We were particularly pleased with their great communication, keeping us informed throughout the process and dealing efficiently with our many changes along the way. We highly recommend this team. Cheers. Phil and Karen
Building a new house is a daunting task and having an architect who you trust to guide you through the process is critical. Mel and Lisa have been incredibly creative and at the same time very practical. They have been incredibly transparent about the process and are prepared to work hard for their fees. Lisa has been responsive to all sorts of naïve questions, and with the vision to see the diamond amongst the rocks. Mel and Lisa were able to listen to our dreams and turn them into reality. To create a design that we are proud of and look forward to building.

We have been collaborating with Lisa and Mel for many years both for our own build and for many of our clients and we only have praise for their professionalism and attention to detail. They are flexible, easy to work with and innovative. We would not hesitate in recommending Zugai Strudwick for all types of residential and commercial projects. Tasy Moraitis Tas-Built
Relationship
Worked with pro
Earth Surveying have been working closely with ZSA for over 5 years on projects in the Newcastle and Sydney area. As a surveyor, I am usually the first one onsite, several times during the building process and the last professional to sign off at the completion of the project. I have always been amazed at the transformation that's happened to existing dwellings and greenfield sites as a result of Mel and Lisa's designs. Their sense of spatial awareness and consideration of the needs of the client during design always has the owners expressing their excitement and satisfaction when I turn up for the final survey!
We're wrapped with ZSA. Such innovative ideas helped us make the most out of a tricky site while giving us the functionality we were after. Thanks Mel and Lisa!
Zugai Strudwick Architects were a wonderful choice to design and develop our vision for our home. They are enthusiastic, and very committed to doing the very best they could to turn our dreams to reality. They communicated very effectively, and are extremely talented. Choosing ZSA made the daunting task of home renovation achievable with minimal anxiety. We could not recommend Lisa, and Mel highly enough.
The team of Mel, Lisa and Tim are terrific to work with. They are practical, responsive and flexible. As owner builder I wanted their professional design input balanced with our ideas too. They are neither rigid or pretentious. We've had several issues with our site and Zugai Strudwick have assisted with practical problem solving all the way. Will definitely use them on my next project.
Mel and Lisa were wonderful! They had no problem helping us push to get everything done in a rather tight time frame and were very positive and understanding throughout the process. Mel was very helpful in helping us with the fitout too, something that I hadn't thought of but would have been a bit tricky on our own. They were always prompt in responding to emails and passing us on information when needed. We love the design of our house and cannot wait until it is done and we can move in!

We engaged ZSA to design and manage the build of our dream home in Sydney's Inner West. Throughout the design and building process, we appreciated the client focus from ZSA and ability to change and adjust as needed. The whole experience was positive! The open and honest communication between Mel and Lisa and us meant we always knew what to expect and when to expect it. Project management from Mel was outstanding. Now that we've moved in, we couldn't be more delighted with how our home has turned out. We would happily recommend ZSA to anyone looking for architects who are able to capture and design and then supervise the building of what previously lived only in your head and heart. Our beautiful home is a joy to live in; beautiful, yet practical for family life.



Our builder recommended ZSA, and we've been thrilled with Mel and Lisa's assistance so far. Construction hasn't started yet, but the process up until this point has been made super easy with their guidance. We couldn't be happier with the design of our house and can't wait to see the finished product!!
A little over time, but we ended up with a house on-budget and beyond our wildest dreams. Thanks Mel and Lisa!
Zugai Strudwick are great to work with - creative yet down-to-earth with good people skills. They developed a comprehensive masterplan for our rural ecovillage with our consortium of owners. We really liked their open approach to finding solutions to the challenges we faced and found their advice on key aspects, such as building on bushfire prone land and water-sensitive design highly valuable. We found them patient and reliable, generous with their time and careful with our budget. They were able to connect us to their network of affordable and highly competent professionals, such as surveyors and landscape architects, and other experts to help us prepare our development documentation for Council. We love the beautiful design they developed for our property and look forward to working with them in bringing it to life.
Lisa and Mel came up with really great and exciting but at the same time sensible and thought out plans for my renovations. Plus they were a absolute pleasure to work with! I would highly recommend them to all my friends. Happy to provide a reference at any time.
We engaged Mel at Zugai Strudwick Architects on a recommendation from our builder after a previous architect had let us down and also burned through $10k of our funds for renovations. Mel was responsive and paid attention to what we wanted to achieve; providing excellent detailed plans, with two minor amendments made overnight. If you are looking for an architect you can trust to listen to your ideas then go no further than Zugai Strudwick Architects. Our one regret is we had not heard of Zugai Strudwick Architects earlier.

Comment from Zugai Strudwick Architects:
Thanks for the review Trevor. Although, only involved for a limited service. We wish you all the best with the build - you should have no worries with Tasy - would love to see some photo's as you progress. We love working on 'Modern' architecture. Your house looks remarkably like an original. Pettit + Servitt.
http://www.pettitandsevitt.com.au/
Cheers Lisa + Mel
We engaged Lisa and Mel to design a contemporary addition to our heritage listed home. The design they came up with exceeded our expectations and we love the result. We are now contemplating a granny flat in the backyard and they have put forward an innovative and exciting concept. We can't wait to get underway with the next project!
On a friends recommendation we contacted Zugai Strudwick Architects (ZSA) to discuss the possibilities and challenges of renovating a Sydney inner city terrace. ZSA, the creative partnership of Mel Zugai and Lisa Strudwick, operate in the Newcastle and Sydney regions. Our initial meeting was the beginning of a close and productive working relationship reflected in the completed project. Engaging Mel in all stages ensured the successful completion of the project. This included design, council approval, contract documentation and contract administration. Mel was willing to listen to our ideas and thoughtfully recreated the space to suit our lifestyle. The final result maintains the history of the building while creating a smooth transition to a modern living environment. From the planning stage to completion Mel was always available to discuss any issues and concerns. We now are now enjoying our new home in Forest Lodge and appreciating the time Mel spent in the finer details often taken for granted in project planning. Visitors to our home comment on the beautiful bathrooms created by Mel and efficient use of space and functionality. These design skills are also on display in the kitchen with the use of light, expansive cupboards and walk in pantry – all in a very narrow terrace. ZSA have now completed two renovations for us from the design stage to project completion. We have also commenced initial design discussions with them for a third project. We highly recommend Zugai Strudwick Architects (ZSA) for your next project.

UPDATE September 2021 We have moved away from the area so have had to sell the house. The house sold within 4 weeks and we made a substantial profit given we only had the property for 6 years. I don't believe our home would have achieved such a good price and relatively quick sale had we not had the focus and guidance of ZSA on producing a high quality renovation. We will be using ZSA again on upgrading our new property purchase. June 2015 Following the purchase of our home we contacted a couple of architects regarding much needed renovations to our kitchen, dining, living and bathrooms. We were impressed with Mel and Lisa at Zugai Strudwick Architects due to their willingness to spend the time needed to help us to become clear as to what would suit our family. Mel and Lisa gave us lots of good ideas and design options, spending many hours in our home going through each room with us. We both found Mel and Lisa very easy to communicate with and really appreciated their patience throughout the whole process. They helped us with the selection of a builder, fixtures and fittings and were always happy to answer any queries as the renovations progressed. The end result is a home that we just love being in. The renovations have transformed our home and exceeded our expectations. A couple of favourite design ideas are the extension of the breakfast bar to accommodate a study area, and underfloor heating in the bathrooms. We highly recommend Zugai Strudwick Architects- Belinda & Donna.




Zugai Strudwick Architects (ZSA) were recommended to us by friends whose house was designed by them. We sent our design brief to a few architects and settled on ZSA because their proposal made it clear that they really paid attention to, and understood, what it was we wanted out of our home. And now that the renovation is complete, we can say with absolute certainty that Mel and Lisa designed our home to be everything that we wanted. Our house was a small, dark, pokey, boiling-in-summer, freezing-in-winter, single-storey, two-bedroom end terrace in inner-city Sydney. The backyard of the house faces east-north-east and the detached side of the house faces south. We now live in a home that is two storeys, light-filled, and cool in summer and warm in winter without needing to draw huge amounts of mains power for heating and cooling. The living areas are spacious with the kitchen, living room and the backyard nicely connected to each other. Being on a small inner-city block, Mel and Lisa worked magic and very cleverly managed to accommodate an extra two bedrooms, an office to fit two workspaces and a big kitchen (where we spend a lot of our time) without anything feeling squashed in. Mel and Lisa also designed a two-storey workshop/studio for the backyard which we will build at a later date if our family grows more than expected! Something that I think is also worth mentioning is that Mel and Lisa were excellent with their communication with council. Our DA was approved very quickly even though the works were so extensive. We couldn't be happier with the house that ZSA designed for us and wouldn't hesitate to recommend them to anyone and everyone. Mel and Lisa will not only design the house that you want, they're also really warm, friendly, helpful and responsive. Over the course of the project, we grew more and more fond of Mel and Lisa which I think says a lot about our experience working with them. We'd be happy to speak with any prospective ZSA clients about our experience.
Zugai Strudwick Architects are the BEST!!! My hubby and I had ideas on how we wanted to transform our very small 101 square metre semi in Leichhardt into a three bedroom, 2 bathroom. But had no idea how to go about it. After meeting with of few Architects, Lisa and Mel stood out. Straight away they made us feel comfortable. They were very confident & professional with the whole process with amazing ideas. Taking time to speak with us and getting to know us and our needs. We had a few concerns with neighbours & Leichhardt Council, which they took control of and has made this whole process stress free. I can't thank them enough for there hardwork and dedication through this design and council process. I highly recommend to use Zugai Strudwick Architects. Thank you Lisa & Mel Michaela & Vincenzo
We engaged Mel and Lisa of Zugai Strudwick Architects to design a home for us based on the original beach shack built by my partners father over 60 years ago. 'Topsy' was the name given to our home in the 50's and the two adjoining properties were 'Tipsy' and 'Turvy'. Needless to say there was and is a great amount of history associated with our home and the community in which we live. Zugai Strudwick Architects spent a week with is in our old shack to get a sense of our lifestyle and the way we utilized the home both in the Winter and Summer Months. Mel and Lisa showed a great amount of respect for the history and my partner John's emotional attachment to the original shack. Their plans for us were absolutely perfect. Whilst we were preparing our home for the "renovation" it became evident that the home would have to be completely rebuilt. Our seaside location had taken its toll on our little shack. Now we are all bright shiny and new, warm in Winter and cool in Summer. Its not too precious but we are not falling through the floorboards either! I guess the best compliment to both Mel and Lisa (and of course John and myself) came over the recent holiday period when and old friend who had not seen the house completed knocked at the front door. She walked in and promptly burst into tears. It is very difficult to retain the 'soul' of an old shack like ours is what our friend said. With the guidance of Mel and Lisa we have managed to maintain the soul of our home and more. We are now enjoying our first Summer here in the new, improved shack and its working brilliantly. Can't recommend these ladies highly enough and look forward to them returning sometime soon to enjoy some long awaited sunshine! Thanks ZSA, Leigh and John

Relationship
Worked with pro
As a builder that has constructed several projects for ZSA, I can highly recommend their architectural services. Their designs and working drawings are always thoroughly though out making the building process efficient and effective. ZSA have a firm understanding of the cost of building which sets them apart from the rest. They have excellent spacial awareness and knowledge of construction which is critical to a good design. Every client that I have shared with ZSA (more than 10) would highly recommend their services.
Back to Navigation
Back to Navigation
Contact Zugai Strudwick Architects
| | |
| --- | --- |
| | Zugai Strudwick Architects |
73 Robert Street
Wickham, New South Wales 2000
Australia
Typical Job Cost AUD $250,000 - $3m


Initial consultation free of charge so that we can learn more about your project and discover how we can work together to achieve the best results