Bluethumb Online Art Gallery
About Us
With a community of over 8,000 incredible artists to choose from, Bluethumb is the Home of Australian Artists. Our mission is to connect artists with collectors and empower them to create a sustainable career in the arts. We encourage you to visit Bluethumb yourself to discover the hidden gems of Australia's underground art scene and emerging artists. Today we are proud to be Australia's largest online art gallery, backed by the numbers that prove it: • Over 16,000 artworks sold to happy homes • Helping over 8,000 Australian artists to generate income from their art • Free shipping and insurance for all collectors • 7-day free returns guarantee for all artwork sales • Dedicated account managers for design professionals • Fast responding local team Whether you're looking to buy a painting for the first time, or are an interiors professional working through your next big brief, our local team is here to make collecting art easy. To succeed we focus on developing custom technology, backed by a specialised team of logistics and digital marketers. We combine this with deeply rooted local curators and artist liaisons. For our trade partners and commercial projects we not only offer the largest national network of artists, but exclusive access to some of the most sought after independent emerging artists.
Services Provided
Art Installation, Custom Artwork, Custom Framing, Decorative Painting, Mural Painting
Awards
Best of Houzz 2019 - Service Power Retail 2019 Finalist & Top 100 2015 Creative3 Best Aus Creative Startup 2015 Aus Rep Creative Business Cup, competition for "World's best creative startup" International W3 Award- Gold 2014, Australian Mobile & App Design Award- Best shopping App 2014
Back to Navigation
Our Stories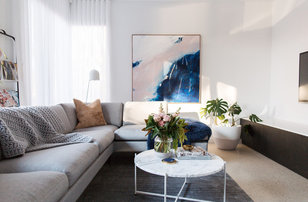 Sponsored story
Sage advice on buying, hanging and framing art from those in the know
Item 1 of 1
Back to Navigation
Back to Navigation
Back to Navigation
Write a Review
89 Reviews for Bluethumb Online Art Gallery
Average rating: 4.9 out of 5 stars
4.9
|
89 reviews
Buying art on Bluethumb is a failsafe experience. I have bought several pieces, they have arrived quickly and true to the pictures/description. As can occasionally happen when transporting a fragile item, one piece arrived with broken glass and Bluethumb did not hesitate to offer to pay for replacement. Communication with artists during transactions has been quick and helpful.
Loved all 5 pieces of artwork I bought. Delivery was prompt and it all arrived in good condition. Website has artwork to suit all budgets.
I have bought quite a few artworks from Bluethumb and have been so happy with my purchases. It's great to be able to support Australian artists & the whole process of buying a piece is very easy. I highly recommend Bluethumb.
Every time I purchase an artwork from Bluethumb it adds more colour, texture, beauty and creativity to my home. (◍•ᴗ•◍)❤
I have purchased a few pieces of art from Bluethumb, the hardest part is choosing which piece to get! So many talented artists, superb quality, fast delivery.. one artist even dropped it off at my home! There is something for everyone... Bluethumb is, and will always be my first go to when looking to buy or even just browse art. Great support for Australian artists.. highly recommend! Give them a go.. you will not be disappointed!
I could spend hours scrolling through the Blue Thumb website. So many artists, mediums, styles - you will definitely find something to love. I've purchased three pieces so far and have been very happy with every one.
Not only are there thousands of works to choose from, what I like the most is finding a style and artist that you connect with to make a commission your own. I have commissioned two pieces (from two artists) and each time the results were sublime and spectacular. For the unique bespoke work, I thought the cost was amazingly great value; and the communication with the artists was warm, authentic and added artistic insight all the way along the journey.


Bluethumb works with an amazing diverse range of Australian artists. I was fortunate to spend a few years in Australia. When I moved back to the States, Bluethumb made it simple to bring a bit of Australia into my home. I've been fortunate enough to purchase works from some wonderful artists that gives me joy to look at on a daily basis. Now if they just offered storage so I rotate my art every couple months, as I've run out of walls!

Great level of support helping me find the right piece for a client. Abundant range of original art available for smaller budgets. Excellent courier service and well packaged products. Very happy!
Relationship
Worked with pro
Always excellent, prompt service. Being a stylist, the option of free returns helps when unsure if the chosen artwork will work in the required space.
Relationship
Purchased art
Great customer service and selection of artworks. We have made a couple of purchase from Bluethumb and have been impressed with their communication every time. Highly recommend.
Have now bought 3 paintings from Bluethumb from different artists and adore them all! Quick, easy, and excellent communication and customer service.
Back to Navigation
Back to Navigation
Contact Bluethumb Online Art Gallery
| | |
| --- | --- |
| | Bluethumb Online Art Gallery |
Melbourne, Victoria 3000
Australia