About Us
polytec is an Australian marketer and distributor of decorative surfaces dedicated to providing the finest quality products. Across the industry, polytec is recognised for innovation, craftsmanship, customer service and the use of quality materials. In the decorative surfaces category, polytec is the fastest growing brand in Australia and is owned by Borg, a privately owned, Australian company. Hallmark to polytec is the manufacture of products with the most technologically advanced and computer integrated manufacturing systems. Through its manufacturing division, Borg is a leading Australian manufacturer of decorative panels and components for joinery applications such as kitchens, bathrooms, laundries, wardrobes and furniture. Borg manufactured products include: • cabinet doors: MELAMINE, THERMOLAMINATED, ALUMINIUM and CREATEC • decorative board products • BENCH TOPS & laminates A mark of the company's commitment to Australian manufacturing, is Borg Manufacturing's three sites in New South Wales. Borg is the leading manufacturer of Thermolaminated cabinet doors in Australia, with a world class production facility in Charmhaven, 15,000sqm warehousing and board facility at Somersby, medium density fibre board manufacturing at Oberon and a high pressure laminate production facility in Malaysia. The polytec business in Australia comprises of 17 distribution and administration centers nationally.
Services Provided
kitchen doors, panels, benchtops, laminate, prefinished board, decorative panels
Areas Served
Somersby, NSW, Australia, Somersby, NSW, Australia, Western Australia, South Australia, Victoria, Queensland, Northern Territory, Tasmania, New South Wales, Australian Capital Territory
Awards
Global Green Tag Australian Forestry Standard PEFC
Back to Navigation
Our Stories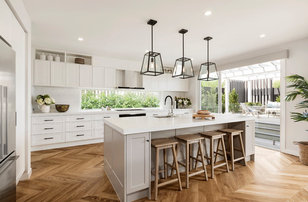 Sponsored story
Get coastal chic in a cool, contemporary way...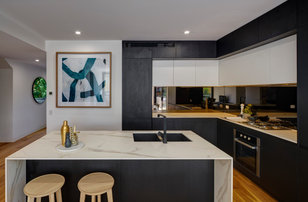 Sponsored story
Five reasons to consider this functional and fabulous material for your kitchen benchtops
Item 1 of 2
Back to Navigation
Back to Navigation
Credentials
4 Houzz Awards
3 Houzz Badges
Back to Navigation
Write a Review
8 Reviews for polytec

When benchtop was put in it didn't match at all. Where the large section met the smaller section the two sides were completely different. Polytec took weeks to analyse it, then more weeks to replace it. Then it took 3 goes to make the join flat (still not perfect). Still it is not great. I am not happy with the end result. Beware of using XENOLITH Grey Cement. While the benchtop is lovely, it does not match up properly and I do not like it but have to now live with it.

Relationship
Worked with pro
VMD Interiors has specified Polytec product for nearly 20years. Their well researched and ever evolving range of materials and colours inspires us to design joinery that suits our clients varied lifestyles and budgets.



We have been dealing with Polytec for years. We find their product range generous and their service is good also. We use Polytec for particleboard, MDF & Laminate.

Relationship
Worked with pro
We have worked with Polytec for over 20 years. Their staff and reps are lovely to deal with. Their product is second to none. Quality is always a must for us.


Relationship
Worked with pro
As a company that prides itself on providing only the best quality kitchen renovations, it is important our suppliers are all of the highest calibre. Polytec has been one of our preferred suppliers for some time, as their varied surfaces and cabinetry are truly top quality and well priced within their category. We look forward to our continued work with Polytec to transform kitchens across Western Australia.

Relationship
Worked with pro
Have been using Polytec for years now as my supplier for all my cabinetry work and they have never let me down. Always on time with superb product quality. A special thanks to my sales representative Matthew who has worked magic for me on more than one occasion. Thanks guys and keep up the great work.

The Kitchen Design Centre
Relationship
Worked with pro
The Kitchen Design Centre really enjoys working with Polytec products. They're always coming up with fantastic colours and products that work so perfectly in the modern, Australian kitchen.

Relationship
Worked with pro
Wonderful Kitchens has been associated with Polytec for several years, with our 35 years experience in kitchen manufacturing we have just about used all there product range. Polytec's wide variety of door material and finishes allows our designers to custom design a kitchen to suit the customers personal tastes, budget and lifestyle needs.
Back to Navigation
Back to Navigation
2 Wella Way
Somersby, NSW, Australia, New South Wales 2250
Australia