About Us
There is an ABI Reseller Near You
ABI is dedicated to creating high-end tapware, fixtures and other space transforming accessories. With a focus on innovation, durability and thoughtful design, our products are made using world-class technology and processes, with up to 25-years warranty.  The family-owned Australian business originated in 2016, after identifying a gap in the market for beautiful, high quality coloured tapware. Since then, ABI has expanded internationally and offers an extensive range of interior products in a variety of signature finishes. Today, they are recognised as Australia's premier creators of architectural products. ABI is driven by a brand purpose that together we will enrich lives by enriching spaces. We are committed to creating products that extend beyond beautiful design, to solve problems and add value to lives. Guided by our brand values of quality, trust, innovation, passion and responsibility, our brand vision is to be the world's most loved creators of thoughtfully designed products.
Services Provided
Bath Sales, Custom Bathroom Vanities, Shower Sales, Sink Sales, Tapware Sales, Toilet Sales, Faucet Sales, Bathroom products, Brass Tapware, Copper Tapware, Matte Black Tapware, White Tapware, Gunmetal Tapware, Kitchen Sinks, Laundry Sinks, Farmhouse Sinks, Bathroom Accessories, Door Handles, Cabinetry Pulls, Basin Sinks, Bathroom Vanities, Mirrors, Floor Wastes
Areas Served
Burleigh Heads, Australia, New Zealand
Professional Information
Showroom: 3/128 Kortum Drive, Burleigh Heads, QLD, 4220. Email: Sales@abi-international.com.au Phone: (07) 5520 2775
Back to Navigation
Our Stories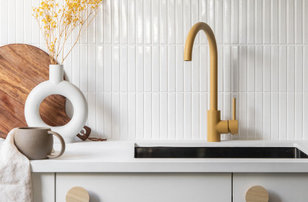 Sponsored story
Soft, soothing and drawn from nature – earth-based tones are huge in 2021. Here's how to use them best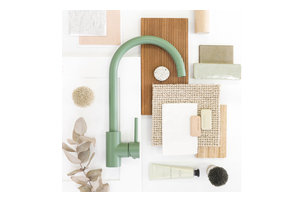 Sponsored story
Soft, soothing and drawn from the landscape – earth-based colours are huge in 2021. Here's how to make them work
Item 1 of 2
Back to Navigation
Back to Navigation
Credentials
1 Houzz Award
2 Houzz Badges
Back to Navigation
Featured Review
We are using ABI Interiors products all throughout our extension/renovation and absolutely love them. The styles and the colours are so versatile and suit our style perfectly! I also love how much inspiration we get from other projects that they
Read Full Review
Write a Review
88 Reviews for ABI Interiors
Average rating: 5 out of 5 stars
5.0
|
88 reviews

I love ABI products! I only wish I had an excuse to purchase more of them!

We ordered various styles of ABI tapware and sinks for our renovation and have been very happy with the quality and price point. The brushed copper is an absolutely beautiful colour! ABI's customer service has also been very helpful and the shipping is always very fast. I definitely recommend ABI for your project!




Relationship
Worked with pro
I love specifying ABI products for all my bathroom projects... My clients love the aesthetics of them, and so do I! They are gorgeous.
We are renovating and I have used the ABI interiors brushed brass range of tap ware and fixtures for our bathroom and laundry. It's a perfect match as we had already picked up brushed brass in out lighting and robes elsewhere in the house. I am watching the last pieces be fitted now and I'm blown away with how beautiful it all looks! What I have loved the most is that I have managed to achieve such a stunning finish without having to visit a store. We live in regional Western Australia so most of my shopping is done online. This can make selections challenging as images only go so far, touching and seeing something in person can be a big part of a purchase experience. I have purchased everything online with the assistance of the sales team who have been fantastic; my questions have been answered promptly and when I overlooked ordering the pop up waste for the sink I purchased they directed me to what I needed and helped have it express shipped out. It was so quick that it arrived a day ahead of schedule! I can't wait to style the rooms and upload photos.
We fitted out the whole bathroom of our new build with matte black tapware from ABI and couldn't be happier with the result. The products are stylish, a joy to use and were oh so affordable. Would highly recommend to anyone and would definitely order from this company again!
Ordered Brushed Gunmetal tap and shower wear for our bathroom renovation. The products are fantastic and they look and feel luxurious. It was great that I could purchase colour samples to ensure the colour was right for me.

Relationship
Worked with pro
I was really impressed with their customer service, how quickly my products arrived once purchased, and the quality not to mention the $$$$. We went with the brushed copper tapwear and handles for our newly renovated Ensuite and I'm so happy we choose this option. We are in the process of organizing our Laundry and Bathroom renovation and will be coming back to ABI.
Really love my basin from ABI, great quality product. The ordering process was easy and it arrived very quickly.
We've used ABI 3 way filter tap and couldn't be happier! Would definitely recommend and will use more of ABI products in the future.
We've used ABI Interiors products throughout our kitchen, bathroom and laundry renovation. Their products are aesthetically beautiful and functionally sound. Using their products we have a subtle commonality tying each of our wet areas together allowing for seamless transitions and a consistent theme. We love ABI!!
We recently renovated our bathroom and chose ABI for all our tap ware and fixtures using the brushed brass range. I was pleasantly surprised when talking to the staff over the phone with questions regarding specs and information about instillation how knowledgeable they all were. We also found the products to be of high quality, colour is Devine, and our return experience was so easy when we had purchased the incorrect product. I found the company as a whole pleasure to deal with.

We recently installed the brushed nickel spout tap and mixer in our bathroom. The package arrived super quickly after ordering. They look gorgeous! Our plumber hadn't installed any ABI products before, and was really impressed with the quality and said he'd be recommending them to his clients.
The most gorgeous tap just arrived I'm in love. Prettier than the pictures. Also excellent customer service from an NZ customer. THANKYOU
Just bought a whole lot of brushed brass from ABI for the bathroom and it is beautiful! I purchased the big shower unit, mixer, the cross taps, the pop up waste, the toilet roll holder and the bath and hand towel holder. They all match beautifully! Best decision ever.
We recently finished renovating our kitchen and boy, does it look stunning! We used the Elysian mixer and a combination of the Elsa Cabinetry Knob & Tezra Cabinetry Pull – all in brushed nickel. It was the perfect choice for the relaxed, coastal vibe we were going for, and also affordable. We are looking to rent our property out in a few years, so we wanted products that would stand the test of time, yet we still wanted the luxe feel without the hefty price tags...Abi Interiors, nailed our brief!

Beautiful quality products. We love the brushed gunmetal. Highly recommend ⭐⭐⭐⭐⭐
ABI interiors uses quality tapwear that looks great, we have used their brand for all our home Reno's and have had no issues.
We have used brushed brass as our theme in the bathrooms and kitchen. The brushed brass sink is simply stunning and pairs gorgrously with the sink mixer. The tap ware is high quality and I would recommend their products to anyone. The final finish gives that wow facter and paired a with a black tile with gold just takes elevates the whole design concept!

We are currently in the middle of renovating our bathroom and laundry and we have designed these spaces with all of ABI's products in mind. The brushed brass is my favourite, and after seeing it in person I cant wait to add these pieces all through our house. Having such amazing quality pieces at an affordable price is such a win when renovating!!

I've bought quite a few bits and pieces from ABI Interiors and have been really impressed with both the quality and speed in which they ship, would recommend to anyone wanting great value products
I just wanted to say that ABI is absolutely beautiful. I purchased all if my bathroom tape-ware from ABI and I am not at all disappointed. It looks amazing and is excellent quality just doing a few finishing touches that I was not able to purchase at the time of the Reno. Love the new Hegman curve pulls.

Relationship
buying customer
Absolutely love this brand! We are building a new house and all of my bathrooms are being designed around the coloured tapware and brash finishings. Can't wait to see the completed project!!
I have over the last 4 years brought sinks, taps, rails and handles for my kitchen, bathrooms. The racks in my kitchen sink is fantastic for drying dishes and keeping items off my marble bench. Also the services is fantastic, from knowledge and style to recalling my order history. I always look forward to the constant new item arrivals. Designing my new outdoor bathroom shower at the moment. I will never deal with any over homeware company!
Very happy with my purchases, the brushed brass range is the perfect colour and great quality.

Absolutely love everything about this brand, it speaks to the key planner usually the female. the colour discs start you off on the journey, we bought the elysian pull out mixer and dish drainer in copper. Now onto another project and ordered the brushed brass items for the laundry. Pricing and quality are perfect. It's my go-to for hardware.
We are building a new home and were pleasantly surprised to find ABI and their unique offering in the world of fixtures and fittings. There are so many positives to our experience thus far. From the quality of the product received, the ease of ordering and above all else the fantastic customer service. Because we had such a large order, we weren't really certain on how to go about it. But the staff at ABI made the process amazingly simple. Even going so far as to help us process our order on EASTER SUNDAY! We are still slogging through our building process. But cannot wait to see the products finally fitted off and in place. We will be sure to comment further at that time with photos. Highly recommended.

Relationship
we purchased from ABI interiors
We purchased tapware, rails and basins from ABI Interiors. It has been 3 months since using them and we have loved their quality. Very happy with their service when we needed something changed, it was expressed post to us so our builder could install asap.

We loved every part of the ABI experience, from the ordering, the delivery, to installation, to the final product. A 5-star experience!

Love ABI designs, really good pricing and when I had an issue with the finishes degrading on a previous renovation they were replaced immediately with a new version of the finish.
Great products and great service, can't wait to install it all into our new build.
Just completed by bathroom reno with ABI brushed brass hardware and their Celine Basin. Love their range and they're helpful too.
The digital branding and design of Abi Interiors' products are awesome. Definitely a step above competitors with eye catching products and a premium look and feel
Wonderful range of quality products that perfectly fit the style of our renovation. The brushed brass sink is a particularly eye catching feature of the kitchen. Great service, speedy postage & good quality.
We are using ABI Interiors products all throughout our extension/renovation and absolutely love them. The styles and the colours are so versatile and suit our style perfectly! I also love how much inspiration we get from other projects that they post on their website/social media - a great place for future ideas!
Absolutely beautiful range and fantastic customer service via email. We have the Elysian Kitchen Tap (black) in our laundry and we absolutely love it. Have been very impressed with the quality and it looks fantastic. Plan to purchase from this company again when we renovate.
Fantastic customer service. So helpful with any question I had. Amazing return policy also (I over ordered and it was no problem returning the extras) The products feel solid and great quality. Can't wait to see them in our new build!

Really happy with the towel rails and and cabinet handles hubby picked. Quality product, super stylish and they gave him some great advice too.
ABI Interiors products are in my opinion, the best on the market in Australia at the moment. Well done to their team!
Great service and great product. Have used ABI several times and about to do whole kitchen and bathroom reno with ABI fittings. Couldn't recommend highly enough!!
We have used a large range of ABI products in our recent renovation and have really loved the quick and easy delivery. Products are great quality & they look amazing!
Very quick delivery, great quality product - very happy! Will order through ABI again
We have kitted out most of our house with ABI products.. particularly love the shower and the davis door handles! Really thrilled with the results.
Elevating furniture with ABI hardware…When creating a nursery for my brand new baby I wanted that designer look but for a reasonable price. ABI's Elsa Cabinetry Knob in Brushed Brass was the perfect finishing touch to a very basic set of drawers. We have had so many compliments on them and everyone wants to know where we got the knobs.
Beautiful range in gorgeous colour collections. We were able to match gun metal tapware to all the small details - toilet roll holder, hand towel rail, and drainage. Will be buying from ABI again.
Beautiful tapware and products and love the colour! Very speedy free delivery too.
Best looking tapwear ever! Looking forward to renovating with ABI
Great products, stylish and high quality. Also great responsive team.
Love my Elysian kitchen mixer in white, it looks amazing I'm my newly renovated laundry!

This was the only place we found that was easy to browse in each type of product and comes with a range of finishes to match.
Great quality products that are unique and great customer service!
Absolutely LOVE ABI Interiors. Have purchased both online and in-store and transactions have always been seamless. Their products are SO beautiful and the highest quality.
Always on trend, quality for money and super quick delivery. If products are not available or on back order they always arrive by or before the date provided and clear communication via email updates along the way. They have a great seamless service and customer service always reply quickly. Great products and company.
The staff at ABI were so helpful with design. I love my new bathroom and ensuite taps and sinks all from ABI. I will definitely be using for the rest of my renovation
I've purchased from Abi Interiors online a couple of times whilst renovating our laundry and bathroom. The products are amazing quality, super stylish and come packaged really well.

We have purchased a few items from ABI interiors such as a tap, soap holders and handles and all have been amazing quality and they are so friendly . Highly recommended!
Love ABI so much. Beautiful designs with an excellent colour range
great service - great price - love the design and colour options.
So happy I found Abi Interiors, their service was excellent, my purchase was delivered promptly and when I open the box I was so delighted with my choice plus the fantastic quality. Beth
Relationship
online and email
ABI are part of my dream bathroom makeovers coming soon. So many choices make it hard to pin down what to choose. Excellent products on trend in style and cost effective

ABI Interiors are great! Loads of design inspo on their website. A wide range of products to select a cohesive look that is also cost-effective. Recommended.
I first heard about ABI from a reno group I'm a part of. Everyone raved about the quality and the finish of the products so we began to investigate. After visiting a show room in Sydney we were sold! We ordered the ABI brushed brass, brushed nickel and brushed gunmetal tap ware for our bathrooms and laundry. The quality of the finish was so beautiful on all of these that we decided to go mixed metal on our renovation. As a "visual" person, seeing the finishes in real life helped me make the decision to order everything online. In fact we've just ordered our kitchen cabinetry pulls and knobs in brushed brass from ABI too. The customer service has been great as well. When I wasn't sure about some of my choices I called ABI and they were so knowledgeable and helpful with what I needed. I love a company that you can online chat to but also pick up the phone and talk to if you need to. Highly recommend ABI Interiors and will definitely use them again!

Great range of stylish and well-made tap ware and accessories with fast shipping

Very happy with our ABI interiors products. We used the Finley shower set in our ensuite and loved the colour, quality and look of it. Recently bought door handles for our new doors throughout the house and they are great. Will definitely be using products from abi for our main bathroom renovation.
I've used brass mixer, waste and bottle trap in the guest powder room and eden sink mixer in the scullery - stunning! Brings a simple palette to life. Have also used gunmetal in the main kitchen with black granite sink and colour matched waste - sophisticated and elegant. Fast delivery and great after sales service - thanks

We have chosen ABI for all our tapware and basins in our renovation. The gunmetal colour is beautiful and the quality looks amazing. Can't wait til our renovations are finished so we can appreciate them every day. Thanks ABI.
Relationship
bought products
Wow what beautiful brass knobs. So good I have ordered more. And to top it off ABI is super efficient and fast delivery. Highly recommend ABI
After seeing ABIs products as a pop-up on social media I knew I just had to go into the Home Ideas Centre and view their products for myself. We ended up ordering a selection of Brushed Brass products for our ensuite and they are absolutely stunning. The look and feel is great and they arrived on our doorstep super fast and beautifully packaged. Thanks ABI for helping make this design process and fit-out so easy.
Gorgeous website and fabulous customer service. We will shop here again and will recommend to others.
I was very impressed by ABI interiors showroom and customer service. I've purchased all our cabinetry in brass and black and the quality is superb!
Excellent range to select from. Such a relief we found them after struggling to find quality finishes and colours we liked elsewhere.

Fantastic customer service and the products are just beautiful. Cant wait to finish our bathroom renos.

Purchased all our tapware and accessories from ABI Interiors for an upcoming bathroom renovation. The brushed nickel finish is gorgeous and it is evident that the products are excellent quality. Fast shipping and delivery, especially because we purchased during a busy period. We have also purchased the Elysian Kitchen Mixer in brushed brass which has already been installed for several months now. The product is high quality and we would definitely recommend it to others.

We absolutely love our brushed gunmetal fixtures from ABI Interiors. They had everything we needed - sinks, taps, showers, door stops, towel racks, you name it. Reasonably priced too, made even better when they have great sales on. Would definitely shop at ABI again.
ABI have stunning finishes, beautifully designed pieces and such a great customer service experience.
I bought a range of brushed nickel tapware and accessories for my main bathroom and ensuite, the products feel and look quality not to mention stylish. I also had to contact their customer service team and was really impressed with the quick response and how helpful they were. I would recommend them to anyone!
Absolutely love our brushed brass tap ware by Abi Interiors! Everything looks stunning and the quality is amazing.
Love ABI Interiors products - I've purchased my kitchen skin and mixer, and bathroom basins from ABI and they're all great quality! Can't wait for the house to be completed

I loved my kitchen taps so much I had to get ABI again for all my bathroom fittings! Their customer service is also of the highest caliber!

When looking at tapware for our new build there was no comparison to price and quality to ABI. Whilst we are yet to complete our build I have had to deal with after sales service due to exchanges (change of mind/situational;, product is completely amazing) and the team have gone above and beyond to assist. I recommend ABI to everyone!

I am absolutely in love with my new brushed brass tapwear & I cant wait to share once its completed. The team at ABI were so helpful when I called to ask questions about different products and how they work. They also had a great response time when emailing them about certain things. Project managing a build is so stressful especially when you have never done anything like that before - the team at ABI really helped with my silly questions I was too embarrassed to ask our builder.
Thank you ABI Interiors for a great online experience, this was my first time purchasing from you and I found exactly what I was after, purchased and paid and received within 24 hours BOOM just like that :-) I will have no hesitation in recommending you to friends and family. Thanks Ange.


ABI Interiors service has been unbelievable I think there are a lot of suppliers that could learn from them. Delivery of goods were fast packaging of the tapware and sinks were very secure. We are renovating our whole home using ABI products throughout. Extremely happy for what you pay for compared to other suppliers. Highly recommend




Super professional service, got my samples sent quick, can't wait to kick off the reno projects I have!

Very impressed with the beautiful quality of all the items we have purchased for our new build
We ordered a mixer and matching bottle trap for our bathroom and we love it. Quick delivery, great colour (brushed brass) and great service. Before buying, we ordered a colour sample which is a great idea. Would definitely recommend.
ABI not only have a great range of on trend products, they are fantastic to deal with.
I ordered online easy peasy and delivery was prompt and packaged beautifully. The brushed copper Finley shower and Elysian tap looks absolutely fab in my bathroom!
ABI offers amazing customer service every single time. Communication is really easy, products are delivered fast, returns if needed are easy as but mostly the products are gorgeous and better than they look on pictures. Price point is very fair too. I couldn't recommend more. We got lots of brushed brass in our new home and we love every single item!
Back to Navigation
Spend $1,000 save $100
Use Code ABI100
| | |
| --- | --- |
| | ABI Interiors |
Burleigh Heads, Queensland 4220
Australia