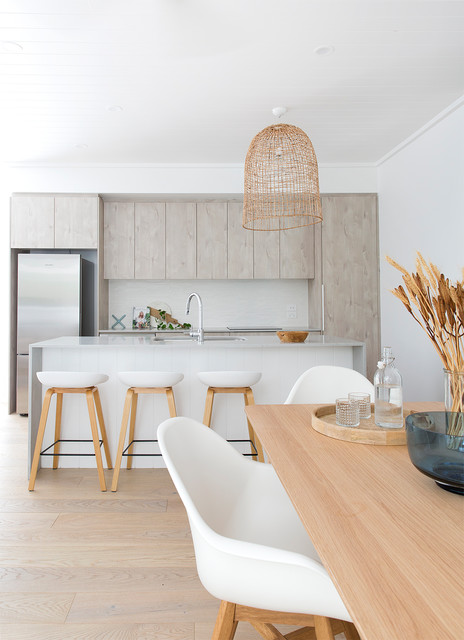 Byron Bay Propetry
Beach Style Kitchen, Brisbane
Louise Roche - @villastyling
Photo of a beach style galley open plan kitchen in Brisbane with an undermount sink, flat-panel cabinets, grey cabinets, light hardwood floors, with island and beige floor. — 
Houzz
What Houzz contributors are saying:

Georgia Madden added this to How Do I... Know if My Hot-Water System is About to Fail?
24 July 2018
Look out for the warning signs of a problemCall a qualified technician to inspect your hot-water system if you notice any of the following:Rust and leakage: If the water coming from your tap is rusty, brown or has a sediment in it, this is a sign that the cylinder lining in your system might have deteriorated. This is not only unsafe, as it creates slip hazards and a breeding ground for termites, but it could seriously cost you in excess water and power bills.Strange sounds: If you notice cracking noises when your hot water is heating up, get it checked out by a qualified service person. It may be caused by sediment building up on the bottom of the tank, which often occurs as a water system ages.

Georgia Madden added this to A Kitchen Joiner Reveals: 3 Things I Wish My Clients Knew
4 February 2018
Laminate is also well worth considering. It's hardy, affordable, easy to care for, and you'll find styles that imitate everything from marble and exotic timber species to granite. As well as cabinetry finishes, you can now find anti-fungal and antibacterial finishes that can be used on benchtops.A Bathroom Design Expert Reveals: 3 Things I Wish My Clients Knew
What Houzzers are commenting on:
Kitchens with Similar Colours