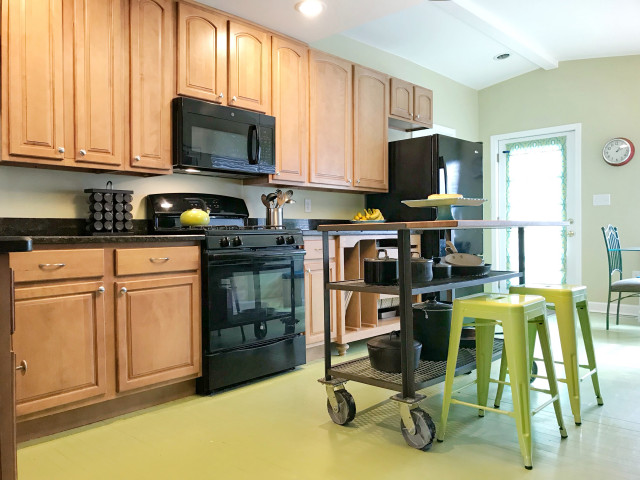 Columbus Kitchen Expansion
Transitional Kitchen, Columbus
To keep this kitchen expansion within budget the existing cabinets and Ubatuba granite were kept, but moved to one side of the kitchen. This left the west wall available to create a 9' long custom hutch. Stock, unfinished cabinets from Menard's were used and painted with the appearance of a dark stain, which balances the dark granite on the opposite wall. The butcher block top is from IKEA. The crown and headboard are from Menard's and stained to match the cabinets on the opposite wall.

Moving the cabinets left a shortage in the base cabinets. This was filled by the Details custom designed furniture-style cabinet seen through the steel island. Pull out drawers with exposed wire and burlap bins and vertical cookie sheet slots are hardworking additions to the kitchen.

Walls are a light spring green and the wood flooring is painted in a slightly deeper deck paint. The budget did not allow for all new matching flooring so new unfinished hardwoods were added in the addition and the entire kitchen floor was painted. It's a great fit for this 1947 Cape Cod family home.

The island was custom built with flexibility in mind. It can be rolled anywhere in the room and also offers an overhang counter for seating.

Appliances are all new. The black works very well with the dark granite countertops.

The client retained their dining table but an L-shaped bench with storage was build to maximize seating during their frequent entertaining.

The home did not previously have access to the backyard from the back of the house. The expansion included a new back door that leads to a large deck. Just beyond the fridge on the left, a laundry area was added, relocating it from the unfinished basement.
Design ideas for a mid-sized transitional eat-in kitchen in Columbus with a drop-in sink, recessed-panel cabinets, medium wood cabinets, granite benchtops, green splashback, black appliances, painted wood floors, with island, green floor and green benchtop. — 
Houzz