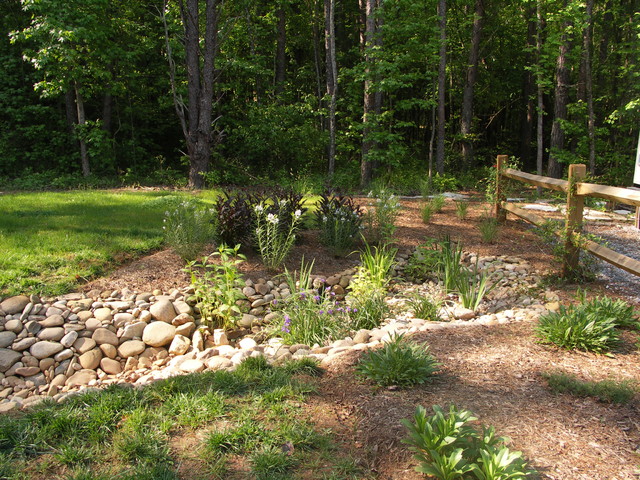 Dry Streams, Rain Gardens and Bog Gardens
Eclectic Garden
This rain garden, close to the edge of the woods, is the terminus of a long dry stream bed. Over-land runoff was previously causing drainage problems near the house, but the dry stream bed intercepts this water flow and diverts it to the rain garden.
Design ideas for an eclectic garden in Other. — 
Houzz
What Houzz contributors are saying:

Lauren Dunec Hoang added this to Common Ground: 10 Clever Uses for Gravel in the Garden
7 May 2018
7. Drainage solutionsDepending on how they are used, gravel trenches can help move, direct or drain water. French drains, for example, help move excess water away from the home or saturated beds. Rain gardens and bioswales, on the other hand, use gravel trenches or depressions to prevent runoff and drain water on-site.
What Houzzers are commenting on:

sheryldv added this to Pleasant Run shade garden
8 March 2021
Landscape Design Saving Water 5 Steps to Selecting the Right Plants for a Rain Garden A simplified look at selecting plants for a rain garden Falon Mihalic Falon MihalicSeptember 30, 2015 Houzz Contributor. Landscape Architect in Texas and Florida and owner of Falon Land Studio LLC. Through landscape design, I create spaces for quiet reflection and lush gardens using native plant palettes and sustainable stormwater techniques. I'm a contributing writer to Houzz so that I can be active in the conversation about sustainable design for residential projects. Learn more about my company's work at falonland.com More Plant selection for rain gardens is a real treat, because a rain garden gives you the opportunity to use resilient native plants that you might not otherwise have in your landscape. These plants are uniquely adapted to thriving in dry, moist or inundated soils and can handle varying degrees of water inundation. During a storm, they work with the rain garden's soil to slow water runoff. Plants are also important because they often are the rain garden's most visible design element. This article is the third in a series about rain garden design. First, review how to site and size a rain garden and how to create the right soil mix, and then read on about plant selection. Falon Land Studio LLC There are many plants that can be used for a rain garden, and it helps to understand the basics on how to zone the rain garden based on moisture and, thus, simplify the task of selecting plants. 1. Divide your rain garden into zones based on moisture level. There are three soil moisture levels in a rain garden, based on how often the soil is wet. The exact amount of time each zone is wet depends on your climate, but here are general rules of thumb: Bottom (wet): The bottom, or "ponding," zone will be wet the most, sometimes more than 50 percent of the year depending on your climate, and will have water accumulate during most storms. Slope (medium): The middle zone between wet and dry will be moist about 50 percent of the year, depending on your climate, and will accumulate water only during heavy storms. Upland (dry): The upland, or berm, area of the rain garden will have moist soil only on rare occasions, because water will accumulate there only during extreme rain events. Shown: A plan view of an elliptical rain garden divided into three distinct zones for dry, medium and wet soil moisture. m.kotiuk 2. Understand how wetland plants are classified based on soil moisture preferences. Plants are adapted to grow based on specific moisture levels in the soil, and many native wetland plants can thrive in varying water levels. Each species can be defined based on how often it is found naturally occurring within a wetland zone. This is called wetland indicator status, and is a way of designating wetland areas based on the plants present. The wetland status of a plant is a key indicator for where it should go in the rain garden. Use the following definitions to help you place the right type of wetland plant in each rain garden zone. Obligate wetland (OBW): Species of plants that are almost always found living in wetlands. Use OBW plants in the bottom (wet) zone of the rain garden only and intermix them with some facultative wetland plants (see next type). Note that a rain garden does not hold water for more than 36 to 48 hours after a storm, so aquatic plants are not suitable for the rain garden, because they will dry out and perish. An example of an OBW plant with a wide range is the lovely buttonbush (Cephalanthus occidentalis, USDA zones 4 to 10; find your zone). Facultative wetland: Plants that usually, but not always, occur in wetlands. Facultative plants can be used in the bottom (wet) and the slope (medium) zones of the rain garden. Facultative wetland plants are usually the most resilient for the rain garden, because they can survive in varying water levels. A very aromatic facultative wetland plant is coastal sweet pepperbush (Clethra alnifolia, zones 4 to 9). Facultative: Plants that occur in wetlands as well as in upland (dry) areas. Facultative plants are great for use in the slope and upland (dry) zones of the garden. Multiple serviceberry (Amelanchier spp.) species are considered facultative plants. A. alnifolia is one native on the West Coast, and A. arborea is native east of the Rocky Mountains. Shown: Redtwig dogwood (Cornus sericea, zones 2 to 7) growing in a wetland. Redtwig dogwood is a facultative wetland or obligate wetland species, depending on where it is found in its native range. Falon Land Studio LLC 3. Search for native plants using a native-plants database. Finding suitable rain garden plants native to the U.S. is easy with the U.S. Army Corps of Engineers' National Wetland Plant List. It allows you to search for wetland plants based on your geography. (Select "custom plant list" and use the options to customize for your area.) Additional plant databases include the one created by the Lady Bir