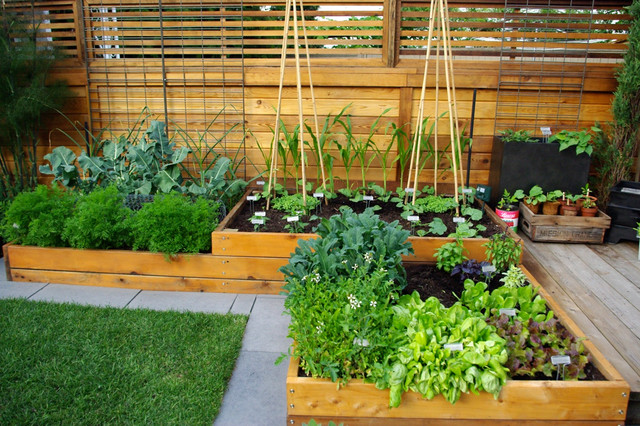 E 18th Ave
Contemporary Garden, Vancouver
Custom multi-level cedar raised vegetable beds.
Design ideas for a contemporary garden in Vancouver with a vegetable garden and decking. — 
Houzz
What Houzz contributors are saying:

Georgia Madden added this to How Do I... Improve the Quality of my Soil?
7 August 2018
Plants and lawns will often tell you they're growing in poor soil by exhibiting some of the following symptoms:Slow or poor growth.Yellowing leaves (this can indicate a nutrient deficiency, pH problem or poor drainage).Wilting leaves (a sign the soil is not holding enough water).


Georgia Madden added this to How Do I... Choose Plants That Are Easy to Grow?
16 January 2018
3. SilverbeetSilverbeet is a hardy plant that tastes great in recipes (try hiding it in the kids' spaghetti bolognese). It can be grown from seed or seedlings and will be productive for many months, with individual leaves being harvested as you need them. They can be grown in full sun or part shade and prefer a well-drained soil or potting mix.Where to grow: In a vegie patch in the garden or an edible balcony garden. When to plant: From spring to autumn in cool and temperate areas. All year round in tropical and subtropical areas.
What Houzzers are commenting on:

Meda Bourland added this to Garden
yesterday
10. Multilevel Raised Beds Incorporating a split-level system in raised beds makes for a more dynamic design in a small space by introducing more height variation. Use the different levels to corral crops based on mature heights — planting tall vegetables like tomatoes and corn to the back of the double-height bed where they will benefit from a larger soil reservoir. Plant lower-growing crops like lettuces and herbs in the lower front raised beds.
pjbe added this to pjbe's ideas
23 June 2021
raiaed beds are so organized in the space
Gardens with Similar Colours