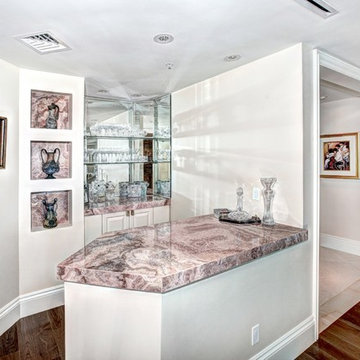 Alley Design To Build
Inspiration for a mid-sized traditional single-wall wet bar in Miami with pink benchtop, no sink, raised-panel cabinets, white cabinets, granite benchtops, mirror splashback, dark hardwood floors and brown floor.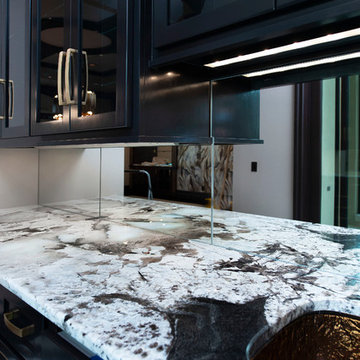 MATT WILSON CUSTOM HOMES LLC
A wet bar that can really make you say WOW! Is this Vegas? Because we never want to leave this space
Photo of a small modern single-wall wet bar in Oklahoma City with an undermount sink, recessed-panel cabinets, black cabinets, quartzite benchtops, beige splashback, marble floors, multi-coloured floor and pink benchtop.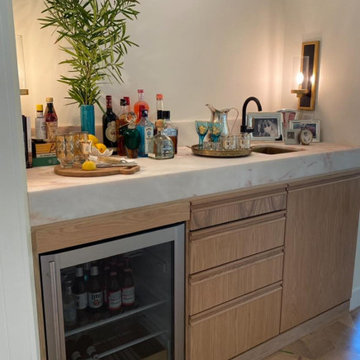 Stone Interiors LLC
Photo of a home bar in Miami with marble benchtops and pink benchtop.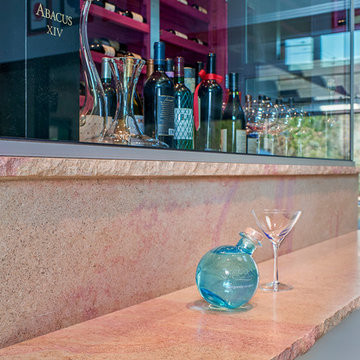 StoneWorks, Inc.
This amazing home bar looks like it could be in a cosmopolitan bar - simply gorgeous! Countertops are French limestone in beige - Comblanchien honed French limestone. There is a story behind this limestone: the stone was quarried from an old French Winery. Over time, the wine bleached into the stone giving it this wine/rosy hue you see running through it. The edge is a Chiseled edge, by design; we chose to combine two different looks - the old world hewn look with the sleek modern room. This limestone served two different time periods, so we married the two together. What a wonderful story for enjoying drinks with family and friends!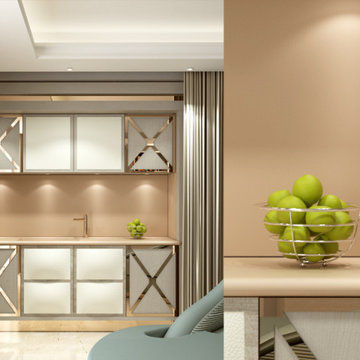 Katí Interior Design Lab
Angolo bar privato all'interno della villa.
Photo of a mid-sized eclectic single-wall wet bar in Other with a drop-in sink, light wood cabinets, marble benchtops, pink splashback, marble floors, beige floor and pink benchtop.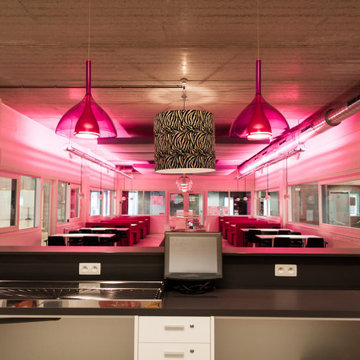 Kundalini
FLOOB SUSPENSION: Volume in plexiglas trasparente di ispirazione floreale in un perfetto equilibrio simmetrico. Lampada a sospensione a luce diretta in Plexiglas termoformato ed estruso con riflettore in alluminio tornito e tagliato al laser e diffusore in vetro acidato. ______________ Transparent plexiglass volume of floral inspiration in a perfect symmetrical balance. Suspension lamp with direct light in thermoformed and extruded Plexiglas with reflector in turned and laser-cut aluminium and diffuser in etched glass.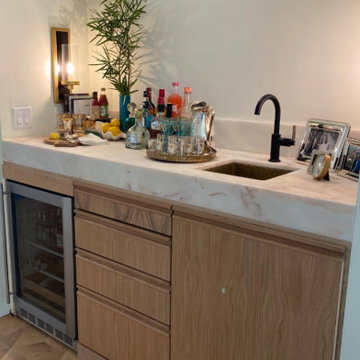 Stone Interiors LLC
Design ideas for a home bar with marble benchtops and pink benchtop.

Home Bar Design Ideas with Pink Benchtop