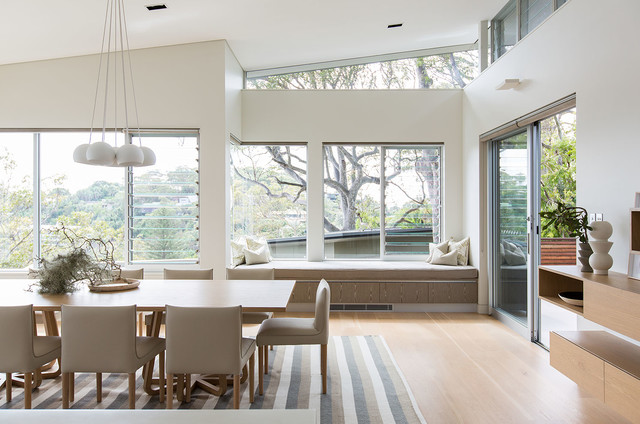 Palm Beach South Residence
Beach Style Dining Room, Sydney
Beach style dining room in Sydney with white walls and light hardwood floors. — 
Houzz
What Houzz contributors are saying:

Vanessa Walker added this to How Do I... Clean My Windows and Keep Them Streak-Free?
17 December 2017
The eyes have it Windows with panes can be a real pain to clean, if you don't know this quick tip. Most pharmacies today sell those little cloths used to clean eyeglasses. This cloth will remove spots on glass with just a spritz of water. Spray the cloth directly with the water and wipe it over spots and smudges on the glass to get a crystal-clear clean.

Joanna Tovia added this to How to Stop Fighting (about Household Chores) and Start Living
31 October 2017
Identify the real issuesAcknowledging your own shortcomings isn't always easy or pleasant, but it's necessary if living with your significant other in relative peace is your goal. It can also be helpful to analyse the real reason why you might be upset about your partner making a mess, or failing to help out enough when it comes to general household chores – is it the mess itself, or the lack of respect you feel as a result? Is the pile of bills you see when you walk through the door each day really about mess, or does it trigger a feeling of panic about your finances?"Housework can be just the tip of the iceberg in what an argument is really about," says Roberts. "Beneath the surface there may be power imbalances, value differences, or general dissatisfaction with a relationship."Housework is very visible, and can represent how much someone cares about the home and the others who live there. "Unless a couple has good communication skills and can really talk about their expectations in terms of roles, it will certainly exacerbate deeper issues," says Roberts.Tip: Get real about how reasonable your demands are. If you like the towels folded after a shower just so, when they would dry just as quickly slung over the rail in a more casual fashion, it might be time to let that one go. Especially if your constant mention of it is starting to drive your partner nuts.
What Houzzers are commenting on:
Dining Rooms with Similar Colours