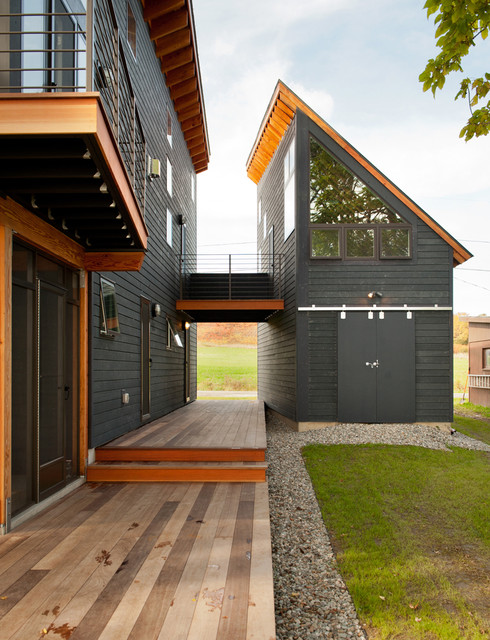 The Projector House
Contemporary Exterior, Burlington
Looking towards entry
Photo by Michael Heeney
Photo of a mid-sized contemporary two-storey grey house exterior in Burlington with wood siding, a shed roof and a metal roof. — 
Houzz
What Houzz contributors are saying:

Natasha Shaw added this to The Construction Process: 7 Must-Dos Before You Start to Build
17 June 2014
1. Don't skimp on design helpGiven the busy lives most of us lead, we don't have the time to research every type of technology and material that might be used on a construction project. Use professionals to save some of the time that would otherwise be spent learning and perfecting the process. Architects are trained not just to make a project pretty but to match building systems, thermal envelopes and other properties to the client's needs. They have a broad up-to-date knowledge of these systems as well as of materials and processes for a wide variety of project areas.Now, I sympathise with the awful feelings associated with a project's going over budget. I've been there; I've gotten that dreaded call from the contractor that the structural and mechanical designs are in conflict. And dealt with pre-existing conditions the contractor hadn't anticipated.A design pro can provide guidance on what team members will likely be required for the project. And not just for the big ones, such as a full custom-home construction. Smaller projects, such as additions and renovations, also can benefit from a pro's expertise. Architects can usually recommend other team members, too, including engineers.