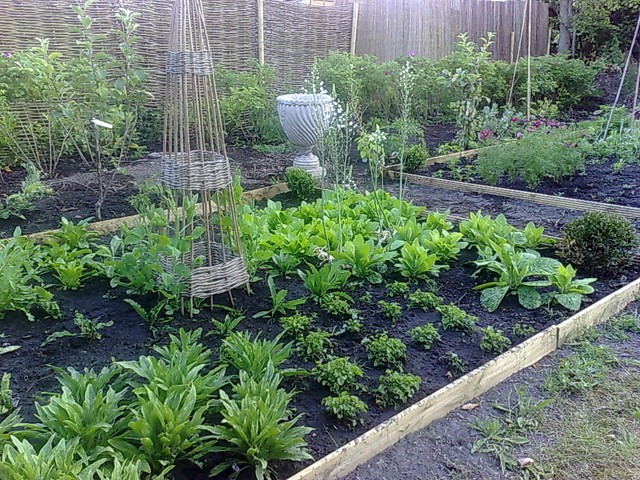 Traditional Garden
Traditional Garden, London
Design ideas for a traditional garden in London. — 
Houzz
What Houzz contributors are saying:

Carol Bucknell Garden Design added this to Top 10 Things to Do in the Garden in May
20 April 2015
4. Sow seed for winter greensKeep your nutrient levels up during winter by growing cold-hardy greens such as bokchoy (Brassica rapa var. chinensis), cabbages (Brassica oleracea var. capitata), kale (Brassica oleracea var. sabellica), spinach (Spinacia oleracea), and watercress (Nasturtium officinale). Buy seedlings or sow seeds into punnets, so seedlings can be planted into the garden when they are strong enough to cope with wintery weather, and are more resistant to pest attacks. Protecting delicate seedlings in the garden with cloches (make your own from plastic soft drink bottles) is also a good idea.10 ways to kick-start your winter vegetable garden

Jenny Drew added this to 11 Ways to Max the Benefits of a Small Outdoor Space
7 May 2014
9. Grown your own vegiesPerhaps you want to use your outdoor space to grow edibles. Grow garden vegies and herbs in a raised bed. The square-metre gardening system allows you to grow the most produce in the smallest amount of space.

Carol Bucknell Garden Design added this to Homegrown: 10 Steps to Growing and Harvesting Spring Produce
15 April 2014
STEP 8: Create shelter from the windYou need to know the direction of the prevailing winds to help work out which parts of the garden are exposed or sheltered. Vegetables need more protection than larger plants, as strong winds can easily damage their leaves and loosen roots. If your garden is exposed to strong winds, you'll need to provide some form of windbreak such as hedges or lightweight fencing. Remember, both hot and cold winds can be a problem, the former stunting growth rates, the latter increasing moisture evaporation from both soil and plants.
What Houzzers are commenting on:

Karen Bromert added this to out front
1 April 2021
Mix a bucket of sand with oil (mineral oil, baby oil or any other nontoxic oil) until the sand is just moist. Push the blades of your shovels, pruners, hand tools and so forth into the soil to sharpen them and to oil the metal and keep it from rusting. You can plunge the tools into the soil up and down to further scrape and file the edges.
Greeshma added this to Plants
22 September 2020
Most herbs want full sun, but other than that, you don't need to worry too much. Many of the more popular herbs, such as thyme and lavender, will grow in poor conditions. Some, such as mint, will grow almost anywhere. In fact, mint can be so invasive, it's best to put it in a pot raised off the ground.

gmackwood added this to Tuscan Garden Veg Choices
7 February 2020
Making Veg Garden Choices https://www.houzz.com/magazine/how-to-grow-the-edible-garden-thats-right-for-you-stsetivw-vs~79275403