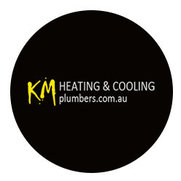 KM Heating and Cooling Plumbers
| | |
| --- | --- |
| | KM Heating and Cooling Plumbers |
KM Heating and Cooling Plumbers have been delivering quality and reliable plumbing services for all heating and cooling brands throughout all suburbs of Melbourne. More than a decade old family-owned business, we are proud to have qualified technicians who can take care of all your requirements of air conditioning and heating systems. We are equipped with advanced machinery to handle all types of plumbing services. Our services: Blocked drain and sewer plumbing services Evaporative cooling system repair and service Duct vents or piping service Heating repair Hot water system Hydronic heating Split system repair Air conditioning service We do repair, maintenance, replacement and installation services in all the suburbs of Melbourne. We have a crew of local technicians who deliver services in the local area. We are equipped to provide all kinds of services in both commercial and residential areas. Reasons to hire us: Quality and licensed technicians. 100% satisfaction Modern machinery and tools Quick and effective services Same day and weekend services Over a decade of experience Km Heating And Cooling Plumbers are experts in delivering on-time services with the best results. We offer a great and amazing service at affordable rates. Get the best and excellent plumbing services in a single day of booking.
Services Provided
Air Conditioning Inspection & Repair, Air Conditioning Installation, Central Heating Installation, Central Heating Repair, Evaporative Cooler Installation, Evaporative Cooler Repair, Water Heater Installation, Water Heater Repair, Blocked drain and sewer plumbing services, Duct vents or piping service, Heating repair, Hydronic heating, Split system repair, Air conditioning service
Awards
10 Best Service Awards
Write a Review
19 Reviews for KM Heating and Cooling Plumbers
Wow... I really like your plumbing service...Your team was professionals very friendly and polite. I'm very satisfied...Thank you!!
Project Price
less than $1,000
I just want to say thank you to KM Heating and Cooling that they gave a brilliant plumbing service. I recommend their name as the no.1 plumbers. I called them to repair my toilet, they came on time and deliver me a professional service. The technician who visit was very professional and sincere. I really liked your work.

Project Price
less than $1,000
I have no wish to rate this company any stars ..tech arrived and advised possible ignition valve fuse blown ..advised replacement and posslby could be faulty board would know when part replaced... so call out and parts and labour $313 fair enough.. had to pay 50% of quoted replacement up front another $215+ gst.. came back next day performed replacement no joy .. then told needs new ignition module which "might " fix the problem $1937 plus fast or might need whole new ducted heating unit quoted $5461 plus gst... unwilling to commit straight away.. we had to pay the balance of the original quote so we had spent over $900 and still NO working heater... had another tech take a look replaced the ignition module for under $400... Upshot I will NEVER recommend your company.. we feel very ripped off..
Project Price
$1,000 - $9,999
I have just had a good experience. Got three quotes - this one was priced in the middle. Felt comfortable with the tech - he was not pushy. All questions were answered before I paid deposit. Installers - polite and courteous, worked hard and cleaned up. Will use again and have recommended to friends.
Project Price
$1,000 - $9,999
Texted me 10 minutes before the appointment time to say they could not make the appointment. Taken the morning off work to meet them. Very annoying.
Project Price
$1,000 - $9,999
Hans from KM heating arrived on time and having looked at our heating/cooling unit told us what was required and how much it would cost. This necessitated his going off site to purchase the parts and returning later. Job completed satisfactorily and Hans whole approach/workmanship was outstanding. Will definitely use again-if necessitated. (Should note that a previous plumber completely overlooked the issues found by Hans)
June 8, 2018
Last modified:

June 8, 2018
Project Price
less than $1,000
I wish I saw this page before booking this place for a service of my central heating. Like someone else here, they quoted me a price then the guy that came said it's plus GST!! Get lost!!! Prices are quoted inclusive of GST, I'm not a business. The guy then went ahead and wanted to charge me $75 for a piece of cardboard box to fill in a hole! Didn't tell me at the time of doing it that it will be extra. I was so annoyed and frustrated. This has got to be illegal!
Relationship
Received an estimate
Project Price
less than $1,000
A complete waste of time! Called me an hour after he was supposed to arrive and said he wasn't coming. I said we are still available and COLD and would love his help - to be told he lives too far away so wouldn't be coming round and to rebook for Monday. Completely unprofessional, particularly since they service a limited catachment area which I am part of! But by the looks of the feedback here, I should be pleased! Would definitely stay away from this company
Relationship
Received an estimate
Project Price
less than $1,000
Do not use this business. Charged $200 just to have a look at ducted gas heating. Quoted $800 for new thermostat and wanted full payment upfront. Got another quote from another business $90 call out fee & $150 for new thermostat. This business is a Total rip off!
Project Price
$1,000 - $9,999
Quoted a callout cost and then charged $120+GST labour on top of it. Payed nearly $400 just for them to look at the heater for about 1/2 hour. Then charged another $700+ to come back the next day and actually fix a unit worth just over $1,000. Crazy that it would have been cheaper to buy a new one. I don't know if that's a normal price, but it seems massively inflated to me! Wouldn't use them again.
Horrendously expensive. Quoted job of $285 increased to $500+ without notice for a 40 minute service call. Zero after service customer care, zero issuance of a invoice i.e. Nil proof of service or warranty.
May 21, 2018
Last modified:

May 27, 2018
Project Price
less than $1,000
Just terrible. Gave a quote to visit of $185 then charged $203 (they didn't mention that GST wasn't included) then fiddled for 30 mins before taking a guess at what the problem was, which turned out to be wildly inaccurate. I asked roughly how much it would be and was told $450 but would get a quote from the head office. A week later I hadn't heard back so contacted and was given an official quote of $2000! Eventually got it fixed by someone competent for $195. Would never consider these guys again.
Load All 19 Reviews
Heating & Air Conditioning Contractors near Melbourne