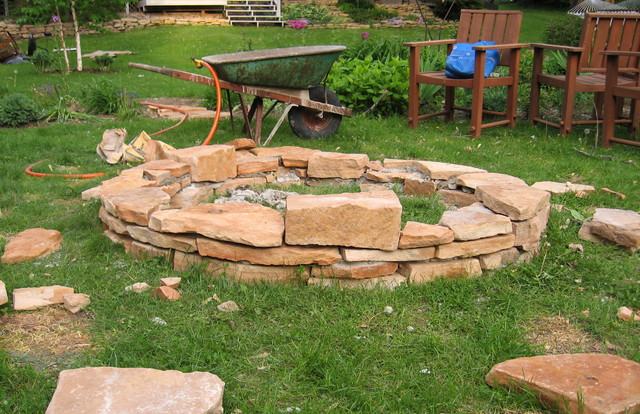 Fire Pit DIY
Contemporary Garden, Milwaukee
Inspiration for a contemporary garden in Milwaukee. — 
Houzz
What Houzzers are commenting on:
natasha_nm72 added this to кастрище 1
11 May 2019
Каждый день я замешивала небольшое количество раствора и наносила его ровным слоем, выкладывая очередную партию камней. Очень важно не торопиться и готовить приблизительно то количество смеси, которое вы сможете использовать в короткий период времени. Всё, что останется неиспользованным, на следующий день засохнет — трата материала. Совет: Если вы, как и я, не собираетесь брать отпуск, чтобы обустроить место для костра своими руками, будьте готовы к тому, что работа займет много времени, и ваш двор или сад неизбежно пострадает от строительных материалов. Чтобы потом не восстанавливать травяной покров на всем участке, сложите все материалы и инструменты в одном месте.
rdennis60 added this to Exterior Ideas
25 July 2014
I mixed small batches of mortar and applied a layer under each stone as I went along. It is important not to get ahead of yourself here and only mix as much mortar as you can handle in a short period of time. Tip: If you're like me and don't have a stretch of days to do this all at once, your yard can take quite a beating. You may want to stage everything in one specific area so you don't have too much grass to fix.