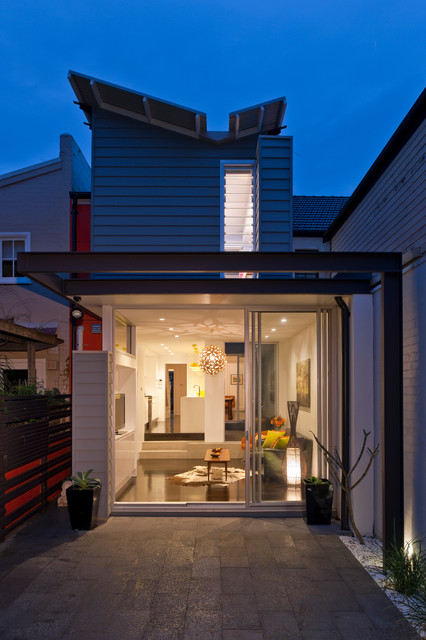 Paddington Butterfly House
Contemporary Exterior, Sydney
courtyard, indoor outdoor living, polished concrete, open plan kitchen, dining, living


Rowan Turner Photography
Design ideas for a small contemporary two-storey grey townhouse exterior in Sydney with a metal roof. — 
Houzz
What Houzz contributors are saying:

Joanna Tovia added this to Eco-Friendly Kids: Inspire Your Children With the Wonders of Nature
27 August 2014
5. Turn off the lightsIt can drive bill-paying parents to despair when kids leave the lights on throughout the house without a thought for what it might cost the earth (or you). The only solution is to devise a plan to make it matter to them – an adjustment to pocket money every time the bathroom light is left on, perhaps?

Natasha Shaw added this to The Construction Process: 7 Must-Dos Before You Start to Build
17 June 2014
2. Become part of the teamMost people spend more time planning their next vacation than they do planning their house project. Not that the planning has to be a full-time job. An architect or a designer can help you understand your role in the project as well as the contributions of other team members. That means participating in the process from the start so that you stay fully up to speed with what is happening throughout the project. I've seen clients assume that I know what's going on in their head and are surprised when something comes out differently to what they were expecting. That's why communication is important. The Houzz website and app allow you to show your team what spaces and materials you like. This can give them a reference point to understand where you are coming from (and where you can go together as a team).
What Houzzers are commenting on:
Lydia Schrader added this to Lydia's ideas
6 October 2019
What about large glass window with single narrow slider and hidden screen just for slider area? **What if we did that for front bedroom window onto deck and onto covered deck with round chair in corner of windows, and no windows on side of bedroom?