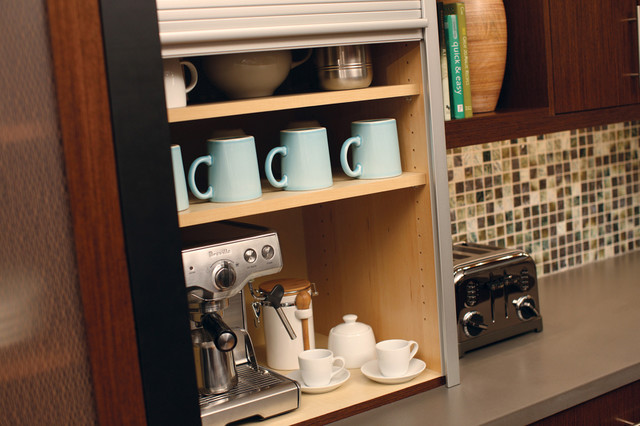 Urban Loft - Storage Solutions
Contemporary Kitchen, Minneapolis
Storage Solutions - Our popular, metal tambour door rolls up to reveal a convenient coffee center with cups, saucers and sugar stored close at hand. A tall metal appliance door (WACTT) rolls up smoothly to reveal adjustable shelves positioned only a few inches apart for tray storage. A tall tambour cabinet (WACTT) provides centralized storage while adjusting shelves are precisely positioned for maximum organization.

"Loft" Living originated in Paris when artists established studios in abandoned warehouses to accommodate the oversized paintings popular at the time. Modern loft environments idealize the characteristics of their early counterparts with high ceilings, exposed beams, open spaces, and vintage flooring or brickwork. Soaring windows frame dramatic city skylines, and interior spaces pack a powerful visual punch with their clean lines and minimalist approach to detail. Dura Supreme cabinetry coordinates perfectly within this design genre with sleek contemporary door styles and equally sleek interiors.

This kitchen features Moda cabinet doors with vertical grain, which gives this kitchen its sleek minimalistic design. Lofted design often starts with a neutral color then uses a mix of raw materials, in this kitchen we've mixed in brushed metal throughout using Aluminum Framed doors, stainless steel hardware, stainless steel appliances, and glazed tiles for the backsplash.

Request a FREE Brochure:
http://www.durasupreme.com/request-brochure

Find a dealer near you today:
http://www.durasupreme.com/dealer-locator

Design ideas for a large contemporary l-shaped eat-in kitchen in Minneapolis with an undermount sink, flat-panel cabinets, medium wood cabinets, quartzite benchtops, multi-coloured splashback, mosaic tile splashback, stainless steel appliances, light hardwood floors and with island. — 
Houzz
What Houzz contributors are saying:

Becky Harris added this to 12 Stupidly Simple Home and Living Tips
25 October 2015
Keep coffee accoutrements next to the machine Cue the 'Doh!' again. I am not a morning person. So walking to the pantry to get my coffee, then pulling out the grinder from a lower cabinet, grinding the beans, then walking across the kitchen to put them in the coffeemaker was ridiculously inefficient. And dangerous – because bleary-eyed me tends to bump into things and stub toes. Now I keep my beans, grinder, sugar and mugs in one cabinet right above the coffeemaker. I have even expanded this genius to the rest of breakfast: porridge, cold cereal, tea, teacups, flax seeds for smoothies, smoothie-making blender and cereal bowls all live in one place, so that I don't have to think or move any more than necessary in the morning. I keep all of my smoothie ingredients together in the refrigerator as well. Morning rituals that will make you feel more awake

Joanna Tovia added this to Hello Sunshine! How to Start Your Day Off the Right Way
15 October 2014
Drink lots of waterEveryone knows drinking water rehydrates and refreshes us when we wake up, but we don't always remember to do it. If you love your morning coffee, why not use it as a reward to be enjoyed once you've had the water? If you can consume the water at room temperature with a squeeze of lemon in it, you'll feel more alert within minutes.
What Houzzers are commenting on: