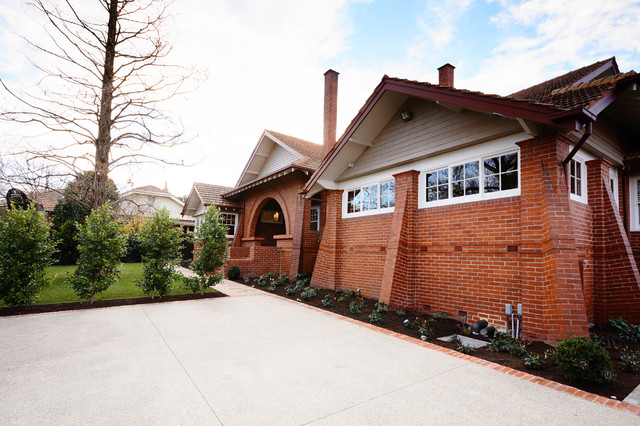 Kew Home Renovation
Transitional Exterior, Melbourne
Derek Swalwell - www.derekswalwell.com
Transitional one-storey brick exterior in Melbourne. — 
Houzz
What Houzz contributors are saying:

Adam Hobill : Design added this to 7 Renovating Lessons You Don't Want to Learn the Hard Way
1 June 2015
1. You need to know the existing house One of the most important things you can do is get familiar with the house that you are renovating or extending. If you've already lived in the house for a period of time, you will have got to know the good, the bad and the ugly. If you have just purchased it with a plan to renovate immediately, I suggest you try to spend as much time there as possible so that you get to understand the home's personality and the site's opportunities and constraints. An ideal world would allow you to move in and live in the house for about a year or so before commencing any renovations, so you are familiar with the house through all seasons. If that isn't possible, try to at least spend chunks of time at the house at different hours of the day, so that when you are planning the renovation, you have a better sense of what the house is already like to live in and where you need to focus your attention the most.

Joanna Tovia added this to Houzz Tour: Historic Home Gets a Luxe Face Lift Plus a Basketball Court
4 June 2014
To begin, the architects sliced the home in half. The three front rooms were preserved in their original heritage style, while the remaining back rooms were reconfigured and extended to create new space, including a four-desk study, master suite, kitchen, butler's pantry (complete with baking station), meals and living area, a laundry and two powder rooms. The architects also designed a massive underground component to house a cellar, five-car garage, gym, guest retreat, kids' play area, hallway entrance, cinema room, bathroom and an indoor basketball court. A second storey was added for four bedrooms, two bathrooms and another children's retreat. One of the children's bedrooms also made use of roof space for a secret cubby and storeroom – a dream come true for this little girl. The master bedroom area is one of the client's favourite new spaces. The existing rooms were reconfigured to incorporate a luxurious master ensuite and two magnificent walk-in robes. The laundry and powder room were part of the existing footprint, but the rooms were modernised and rejigged to meet the clients' needs.
What Houzzers are commenting on: