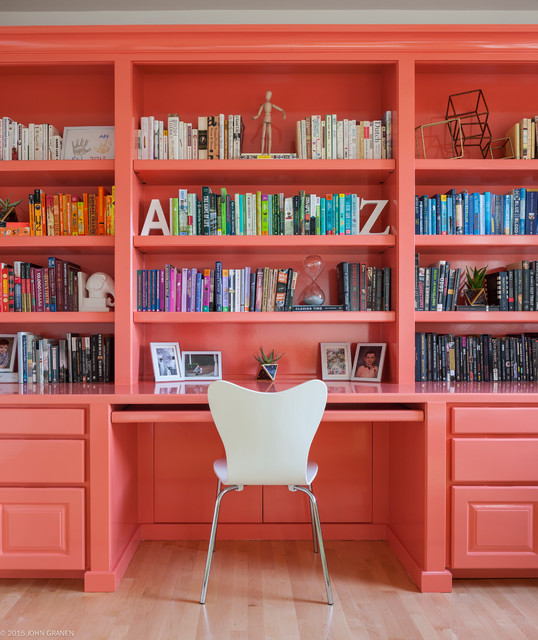 Mercer Island Modern
Contemporary Home Office, Seattle
Originally the homeowner wanted to give this room a fresh coat of paint and call it good. Which would have meant leaving the dark wooden book case alone. However, since it was off the entry I knew it would feel out of place with all of the modern changes and updates that were being made. I knew we could give this beautiful built in new life with a little creativity and a fresh coat of paint. But not just any color. It had to be bold to be on par with the rest of the design so naturally I choose coral. The end result is a beautiful, fresh study that flows seamlessly with the rest of the home.This study has become the ultimate place to read and catch up on work. The unforgettable bookcase was revamped with a coat of high-gloss paint and some TLC. It is also the homeowners favorite room in the house. © John Granen Photography
This is an example of a contemporary home office in Seattle with light hardwood floors and a built-in desk. — 
Houzz
What Houzz contributors are saying:

HouzzSG added this to Pantone's 2019 Colour of the Year: Designers' Reactions
3 December 2018
Which colour combinations are questionable?Many colour combinations prove controversial. "Yellow could be very hard to make work and I'd give the pink-and-green combo a rest too," says Simpfendorfer. "Coral could work with olive though."Italian interior designer Lia Lovisolo agrees. "I recommend avoiding colour combinations with yellows," she says. "Coral and turquoise is always a beautiful pairing, whether it is fashionable or not. It's perfect with light woods – don't combine with amber and dark woods.Japanese colour specialist Mayumi Amimura says we should be careful when pairing coral with other warm colours, such as red and orange, which could make the coral feel too warm. "Even if you love warm colours, using too much of it will strengthen the effect and you might not be able to relax," says Amimura.