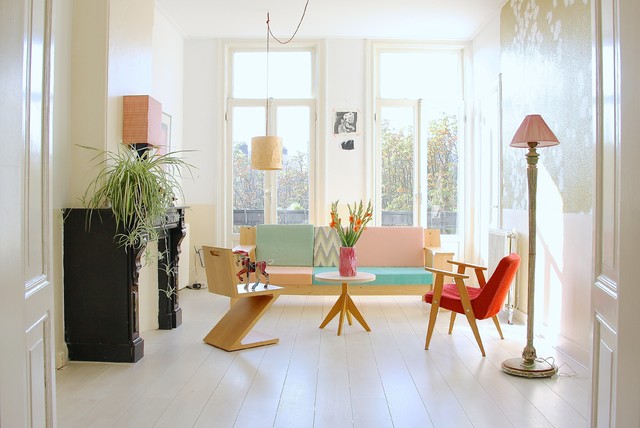 My Houzz: Living Light in Amsterdam
Scandinavian Living Room, Amsterdam
Photo: Holly Marder © 2013 Houzz
This is an example of a scandinavian living room in Amsterdam with white walls and white floor. — 
Houzz
What Houzz contributors are saying:

Carol Bucknell Garden Design added this to 8 Indoor Plants That Will Help Keep Your Home Cool
24 September 2017
8. Spider plant (Chlorophytum comosum)Making a comeback after many years in the style wilderness, the spider plant is deservedly popular with newbie plant lovers, as it's one of the easiest plants to grow. And like the other plants in this story it will not only help cool the air in your home, it will also absorb some of the toxins present as well. Tip: Happy in bright filtered light or semi-shade, spider plant needs a well-drained potting mix and regular watering in the warmer months. Mature plants produce tiny plantlets on the ends of stems that can be cut off and potted up to create new plants very easily.Your sayIf you enjoyed this story, like it, save it, save the images and share your thoughts in the Comments below.MoreKeen to turn the indoor greenery up a notch? Read An Architect Reveals: 5 Reasons You Need a Greenwall

Janet Dunn added this to 11 Hardy House Plants That Thrive on Neglect
10 January 2017
Spider PlantBotanical name: Chlorophytum comosumThis spidery beauty, with all-green or variegated green and white striped leaves, tolerates a wide range of conditions and doesn't ask for much. When little spiderettes appear on the end of leaves, plant some in small pots, still attached to the main plant. As they take root, cut them loose from Mum – it's for their own good.Prefers: Bright indirect light and well-drained soil. Allow soil to dry between waterings. Keep your spider on the cool side, perhaps moving it to a cooler spot during summer.Hates: Not much really – just don't saturate soil.

Victoria Harrison added this to Peachy Keen: Why You Should Revisit This Retro Shade
12 September 2016
It mixes well with other sorbet shadesPeach is a good team player and it gets along well with many other colours. It works particularly nicely with other sorbet shades, such as mint green and duck-egg blue; anything in the same tone will combine well. In this light and sunny room, the peach sofa cushions quietly play their part in creating a soft, pastel scheme that's relaxing and restful.View more living room photos
What Houzzers are commenting on:

Living Rooms with Similar Colours