How do we soften this monstrosity?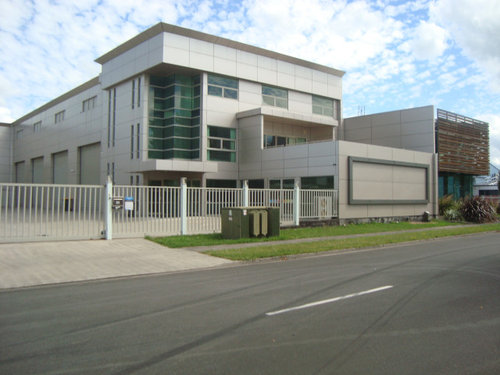 Last time I posted about this , we got sidetracked sorry , and talked about boats and cars and names and feelings and interesting stuff , and I gather thats not allowed as it got deleted haha . So this time I'll try and stick to the knitting .
Even though we haven't settled , we've gotten the keys -- we're not allowed to change locks or security codes etc until the end of next week .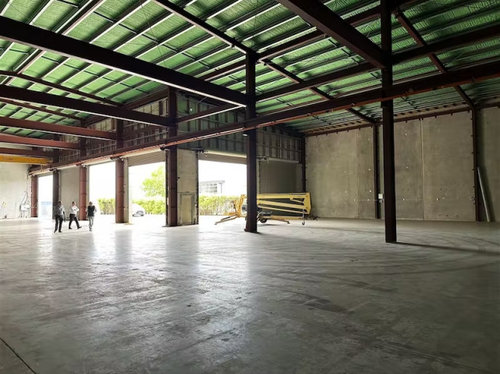 This gives you an idea of how big it is , compared to mere mortals . That stud is approx 11 metres ! Our other ( main ) shop has various walls and rooms and stuff ( we have an engine building room ; a machine room with our CNC lathes etc ; our dynomometer that needs lots of noise suppression ; and a spray booth , for example ) . Here , we will be a lot more open -- we won't do major fabrication or panel and paint here , for example -- this is where we strip and check and replace stuff . Anyway , whereas our main shop is nearly twice as long , but a bit narrower , we only get about 25 cars max in there -- here we should get about 40 and still be able to work on them .
Basically , it gives us the potential to double our throughput .
So theres a large super-quiet compressor and airlines going in this week and next , as well as standard and 3 phase power , more lights , and 2 and 4 post hoists . The hoists are a bit of a hassle -- we want to do them all in yellow , but we can't get the ones we want in yellow , so we are getting 6 blue ones , then each one gets stripped and painted and powdercoated yellow , reassembled , then installed , then the safety inspectors sign each one off . Basically , it'll be close on a month before we have the first one fully operational , and then 1 or 2 every couple of weeks .
Back to the exterior though , and thanks to everyone for your ideas .
Our thinking at this stage --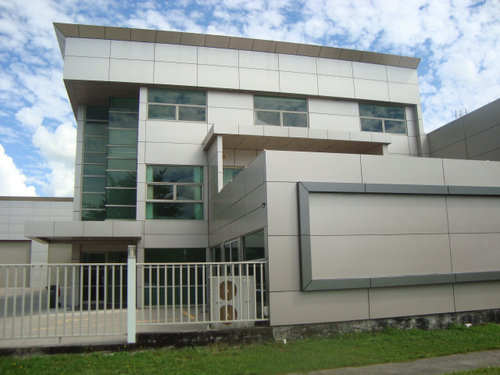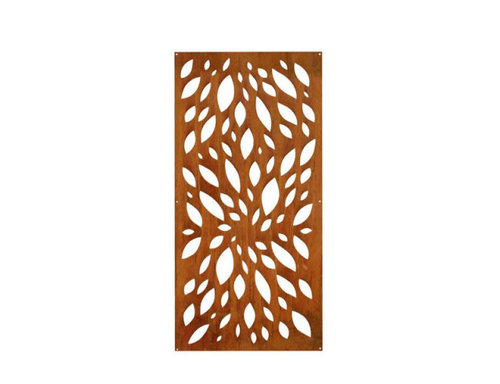 5 Corten panels in that 'frame' right at the front , with orange backlighting at night .
A bright orange sail cloth over that upstairs decking area , in a trapezoidal shape . The idea is it will bring in some colour , but probably most importantly something that isn't square -- when you look , everything is square and regimented and imposing .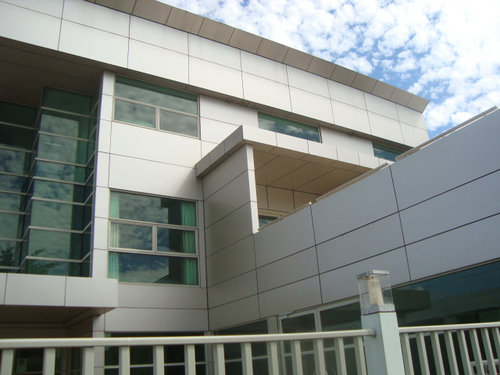 Change those beige alloy handrails around the deck to cedar or similar , again just to soften the look .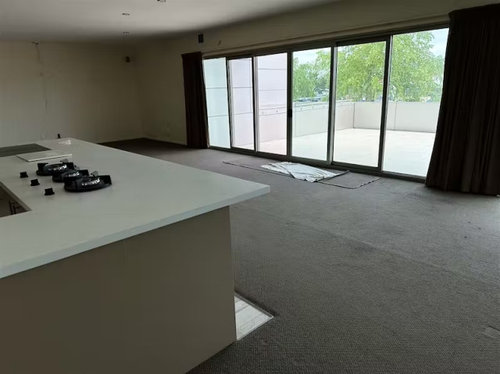 And maybe the riskiest --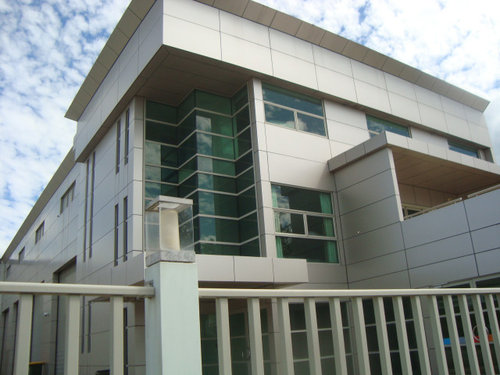 Paint the fence in a bright orange too .
Any thoughts ? Thanks heaps .
Oh , and just one more thing -- all those exterior panels on the building -- they are manufactured or coated in this slightly weird pearlescent almost translucent coating that looks reasonably dark at night , but if you look at the pictures , you see they look almost beige in places , almost grey in other , and look at theat sloping bit around the top of the 3rd floor , and they look almost a different colour .
So yeah , it is what it is -- it is very big and pretty ugly , I don't think it'll ever be a thing of beauty , but we can do a few tricks and tweaks . Again , thanks for your thoughts and ideas .